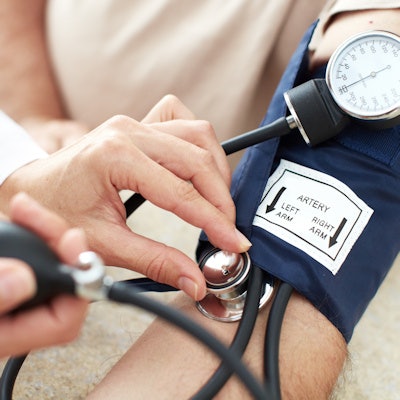 Even patients with periodontitis who are otherwise healthy may be at an increased risk for hypertension, according to findings published on March 29 in Hypertension. Patients with periodontitis but no other diseases were twice as likely to have elevated blood pressure as those with healthy gums.
The new study adds to the growing body of evidence indicating a causal link between periodontitis and hypertension. The findings suggest that periodontal bacteria trigger an inflammatory response that contributes to the development of hypertension, noted corresponding author Dr. Francesco D'Aiuto, PhD, head of periodontology at the University College London (UCL) Eastman Dental Institute.
"This would mean that the link between gum disease and elevated blood pressure occurs well before a patient develops high blood pressure," D'Aiuto stated in a press release.
The case-control study was a collaboration between UCL and International University of Catalonia in Barcelona, Spain. It recruited 250 adults with generalized, severe periodontitis and 250 controls without gum disease who were matched by gender, body mass index, and age.
All study participants were healthy and free of diagnosed chronic health conditions, including cardiovascular disease and hypertension. The median age of the cohort was just 35.
Participants with severe periodontitis were twice as likely to have high systolic blood pressure (140 mmHg). They also had 50% greater odds of having high diastolic blood pressure, and higher blood pressure readings were tied to worse periodontitis severity.
After the authors adjusted for common cardiovascular risk factors, a diagnosis of periodontitis was still associated with higher odds of hypertension and higher mean systolic and diastolic blood pressure readings. People with periodontitis also had higher levels of white blood cells and high-sensitivity C-reactive protein (hsCRP), which are markers of increased inflammation.
Markers of systemic health in people with and without periodontitis
Health marker
Participants with periodontitis
Participants without periodontitis
p-value
Systolic blood pressure, mmHg
124.07
120.70
0.007
Diastolic blood pressure, mmHg
78.10
75.94
0.027
Glucose, mmol/L
1.6
1.2
< 0.001
hsCRP, mg/L
1.86
1.38
0.008
White blood cell count, 1000/µL
6.36
5.58
< 0.001
Worryingly, many of the study participants didn't realize they had high blood pressure readings. Overall, 17% of cases and 14% of controls qualified for hypertension based on the European definition. That percentage shot up to 50% and 42%, respectively, when the U.S. definition of hypertension was used (130/80 mmHg).
"Elevated blood pressure is usually asymptomatic, and many individuals may be unaware that they are at increased risk of cardiovascular complications," stated lead author Dr. Eva Muñoz Aguilera, a senior researcher at UCL Eastman Dental Institute.
Based on their findings, the authors advised researchers to conduct larger randomized clinical trials to test the effects of periodontal treatment on blood pressure. They also recommended that dental professionals screen for high blood pressure and medical professionals look for periodontal disease.
"Integration of hypertension screening by dental professionals with referrals to primary care professionals and periodontal disease screening by medical professionals with referrals to periodontists could improve detection and treatment of both conditions to improve oral health and reduce the burden of hypertension and its complications," D'Aiuto stated.