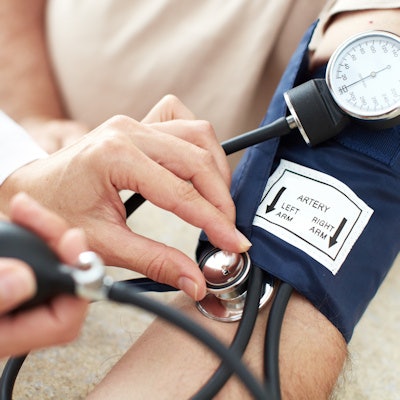 A dentist in New York hypnotized a 51-year-old patient to reduce his high blood pressure, clearing him to undergo scheduled restorative treatment, according to a case report recently published in the International Journal of Dentistry and Oral Health.
The patient was induced into a trance state using Ericksonian hypnotherapy, which uses indirect suggestion and storytelling to alter a person's behavior. After about 10 minutes, the patient was in a deep trance, very relaxed, and his blood pressure dropped to a level that made it safe for him to undergo restorative care on two teeth, the authors wrote.
"Hypnosis may be used as an adjunctive aid to reduce clinical hypertension when treating patient[s] with uncontrolled hypertension to avoid delaying dental treatment," wrote the authors, led by Dr. Asma Muzaffar, MPH, a clinical educator at New York University's (NYU) College of Dentistry (Int J Dent Oral Health, April 30, 2022).
Health history and treatment plan
The patient presented to NYU's dental college for an appointment. He had diabetes, hypertension, focal seizures, major depression, thyroid nodules, and paroxysmal atrial fibrillation.
An intraoral exam revealed moderate gingival inflammation and spontaneous bleeding without probing. Probing depths and clinical attachment levels ranged from 2-9 mm with generalized bleeding upon probing in all quadrants. In addition, there was generalized calculus and clinical caries.
Due to an infection, his treatment plan included the extractions of three teeth. The treatment plan included full mouth scaling, root planing, regular maintenance to address the man's periodontal conditions, and composite restorations on nine teeth. There was also a plan for a maxillary and mandibular removable partial denture, the authors wrote.
Patient arrives for treatment
When the patient arrived for treatment, he informed the dental team that he had forgotten to take his antihypertensive medication. His blood pressure reading from his right arm was 159/111. About 10 minutes later, his pressure readings from his left arm were 156/109 and 158/111.
Since his blood pressure was too high to undergo treatment, the patient was told he may need to reschedule his treatment, or he could try undergoing hypnosis to reduce his hypertension. He consented to hypnosis, they wrote.
After suggesting the patient close his eyes and open himself up to the inner world of his imagination, the dentist suggested the patient take an imaginary walk. The patient chose to walk through a forest, and he began falling into a trance. His trance deepened as he was encouraged to take in the sights and colors of the forest and was told to nod when he could smell the forest. Also, he indicated that he was deep inside the forest, according to the report.
At this time, the dental chair was reclined while it was simultaneously suggested that the patient experience the calmness and stillness of the forest. The dentist continued to talk to the patient using a light, calming tone. After about 10 minutes, the man's blood pressure was taken three times. The measurements were recorded as follows: 155/97, 146/97, and 148/97, respectively, they wrote.
The patient was then given a local anesthetic via a buccal infiltration using mepivacaine, and restorative treatment was completed on two teeth. After treatment was completed, the man was brought out of hypnosis by telling him, "It is time to leave the forest." At this time, he opened his eyes and was unaware that he had undergone any dental treatment.
The dentist explained the treatment that the patient had received and had him rest for a few minutes. Additionally, the patient noted that he did not feel the syringe when he was administered the mepivacaine, the authors wrote.
Before he was dismissed, his blood pressure was taken and recorded at 167/86. The next day, the man returned for additional restorative treatment. At this visit, his blood pressure was 134/94, they wrote.
Hypnosis for those with high blood pressure?
In 2019, more than half a million deaths were attributed to high blood pressure. Currently, 47% of adults in the U.S. are diagnosed with hypertension, and only about 1 in 4 manage it properly.
In general, dentists will not perform dental work on patients with a systolic blood pressure higher than 180 or a diastolic pressure of more than 109. Oftentimes, patients with uncontrolled hypertension will need to have dental treatment rescheduled.
Finding alternative ways to regulate high blood pressure can prevent patients from delaying critical dental care, the authors wrote.
"Given the prevalence of uncontrolled hypertension amongst one in four American adults, any dental treatment missed due to uncontrolled hypertension can be avoided by successfully utilizing hypnosis as an adjunctive therapeutic aid," Muzaffar and colleagues concluded.