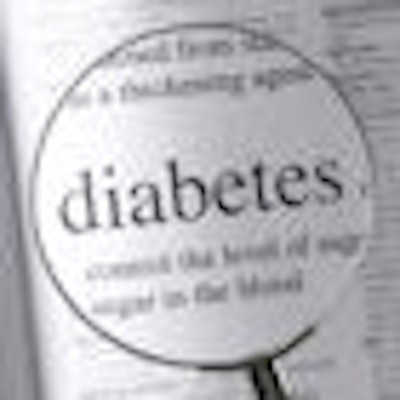 Two recent studies suggest that adding diabetes screening to a dental visit can enhance detection of this disease and, thus, improve overall patient care. Will more medical diagnostics become standard practice in the dental office?
A study in the November issue of the Journal of Dental Education described the results of teaching second-year dental students diabetes screening (2009, Vol. 73:11, pp. 1265-1273).
At Marquette University's School of Dentistry in Wisconsin, 161 students were taught casual, random, blood-glucose screening based on the American Diabetes Association's 2008 guidelines. The students' screenings detected three instances of hypoglycemia and eight of hyperglycemia, according to the study findings. Furthermore, 95% of the students felt the teaching was beneficial, and 78.2% agreed that they might include it in their own practices once they graduate.
Next, a study released this week looked at the rate of people with or without periodontal disease who meet the criteria for diabetes screening according to the American Diabetes Association (Journal of Public Health Dentistry, published online December 14, 2009).
"It is my personal hope that the ADA and dental-hygiene schools will mandate training in diabetes screening."
— Shiela Strauss, Ph.D., New York University Schools of Dentistry and Nursing
The study, which used data from the National Health and Nutrition Examination Survey (NHANES) 2003-2004, involved 2,923 people who had not been diagnosed with diabetes. They also were at least 20 years of age, provided sufficient information to allow calculation of their body mass index, and had completed a periodontal examination that year.
A total of 62.9% of those without periodontitis and 93.4% of those with periodontal disease (275 in all) met ADA guidelines for diabetes screening. Of those at-risk with periodontal disease, 33.9% had seen a dentist in the past 6 months, 50% in the past year, and 60.4% in the past two years. In addition, 62.9% of those without periodontitis met the criteria for elevated diabetes risk and screening.
Training practitioners
Earlier this year, the same research team published the results of a pilot study showing gingival crevicular blood obtained during routine probing in people with moderate or severe periodontitis can be used for accurate screening using a handheld glucose meter (Journal of Periodontology, June 2009, Vol. 80, pp. 907-914).
"We envision that this approach could be used by a dentist or dental hygienist to test oral blood for glucose levels, by wicking the blood onto the test strip and then obtaining results from the glucometer in five seconds," said Shiela Strauss, Ph.D., co-director of the Statistics and Data Management Core for New York University (NYU) Colleges of Dentistry and Nursing and lead investigator on this and the NHANES study.
Co-author Alla Wheeler, R.D.H., M.P.A., clinical assistant professor in the NYU College of Dentistry, said educating practitioners on this approach is a simple matter.
"In our study the orienting of dentists and hygienists was straightforward and swift, since it did not require any more skill than the practitioner would use during a periodontal probing procedure," she told DrBicuspid.com.
Is it practical?
Cyril Meyerowitz, D.D.S., M.S., director of the Eastman Institute for Oral Health and chairman of the Department of Dentistry at the University of Rochester Medical Center in New York, agreed the studies show it is feasible to identify people with undiagnosed diabetes in the dental clinic. However, while screening for medical conditions in the dental office is a good idea, there are additional considerations, he noted.
"For example, there are numerous studies that suggest blood-pressure measurements can and should be taken in the dental clinic, to help screen for people at high risk for hypertension," said Dr. Meyerowitz, "These are both important issues. So we need to firm up the data and then look at the practicality of whether we can implement these forms of screening."
Dr. Strauss remains optimistic that the dental community will see this as an opportunity to further enhance patient care.
"It is my personal hope that the ADA and dental-hygiene schools will mandate training in diabetes screening, especially given that diabetes and other systemic medical conditions often manifest in the mouth and that it is helpful to the dentist and dental hygienists to be aware of whether or not the patient has diabetes," she said. "I would also hope that a billing code for diabetes screening might be considered in the future."