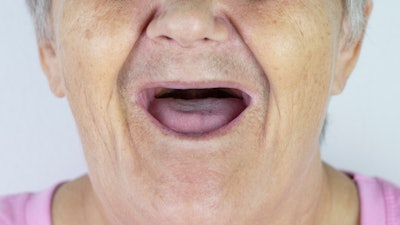 People with type 2 diabetes who have full chewing function may have lower blood glucose levels than those with impaired chewing function, researchers have reported.
Dr. Mehmet Eskan, PhD, of the University at Buffalo in New York and Dr. Yeter Bayram of the Hamidiye Sisli Etfal Education and Research Hospital in Istanbul studied blood glucose levels in 94 patients who were divided into groups based on their occlusal function.
"Our findings show there is a strong association between mastication and controlling blood glucose levels among [type 2 diabetes] patients," Eskan said in a news release issued by the University at Buffalo.
Studies suggest that chewing may stimulate reactions in the intestine that lead to increased insulin secretion, according to the authors. Eskan and Bayram investigated the association between mastication inefficiency due to diminished occlusal support and blood glucose control in subjects with type 2 diabetes.
According to the findings, patients who could chew well had a mean blood glucose level of 7.48 compared to 9.42 in patients who couldn't chew well or at all because they were lacking some or all of their teeth (PLoS One, April 14, 2023).
Ultimately, the finding could help doctors identify interventions to improve glucose management in patients with type 2 diabetes, such as placing dental implants and performing appropriate fixed restorations, the authors suggested. In the meantime, additional research is warranted, Eskan and Bayram noted.
"Further studies are needed to reveal the causal relationship between occlusal support, tooth loss, and digestive function on blood glucose levels in subjects with [type 2 diabetes]," they concluded.