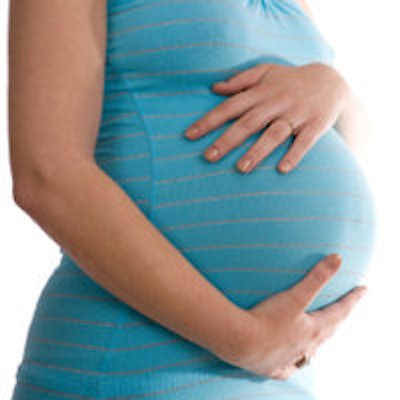 A new study has added to the mounting evidence on the harmful effects of the endocrine-disrupting chemical bisphenol A (BPA), which is found in epoxy resins used in some dental sealants and composites.
Exposure to BPA during pregnancy can cause oxidative damage that may put the baby at risk of developing diabetes or heart disease later in life, according to a new study in the journal Endocrinology (January 20, 2015).
Oxidative stress is a disturbance in the balance between the production of reactive oxygen species (free radicals) and antioxidant defenses. It occurs when a body is exposed to high levels of free radicals and the body cannot neutralize the chemicals quickly enough to correct the imbalance. It is associated with insulin resistance and inflammation, which are risk factors for diabetes, other metabolic disorders, and cardiovascular disease, according to senior study author Vasantha Padmanabhan, PhD.
But whether BPA is harmful to human health has been vigorously debated, she noted.
BPA: Endocrine disruptor
"This study provides the first evidence that BPA exposure during pregnancy can induce a specific type of oxidative stress known as nitrosative stress in both the mother and offspring."
— Vasantha Padmanabhan, PhD
BPA has been shown to be an endocrine disruptor, a chemical that mimics, blocks, or interferes with the body's hormones. The U.S. Centers for Disease Control and Prevention estimates that more than 95% of Americans have BPA in their bodies. Two earlier studies linking BPA to harmful effects on male fetuses and prostate cancer were presented at the Endocrine Society's meeting in 2013.
Besides being found in sealants and epoxy resins, BPAs are found in many consumer products, including plastic bottles, food cans, and cash register receipts. Even though it has been used since the 1960s for food packaging, the U.S. Food and Drug Administration (FDA) banned BPA-based materials in baby bottles, sippy cups, and infant formula packaging in 2012.
Dental materials used to treat and prevent caries can contribute to very low-level BPA exposure for a few hours after placement, according to an ADA statement. The FDA continues to allow the use of BPA in dental materials, medical devices, and food packaging. Based on current evidence, the ADA does not believe there is a basis for health concerns relative to BPA exposure from any dental material.
Current study
In the current study, blood samples were drawn from 24 mother-and-infant pairs to measure any effects of BPA exposure. The blood was drawn during the first trimester of pregnancy and the participants were divided into two groups: those who had lower and higher levels of BPA. Blood samples were taken from the umbilical cords after the babies were delivered, allowing researchers to measure the amount of chemical byproducts created by oxidative stress.
Unsurprisingly, the analysis found that mothers exposed to higher levels of BPA and their infants showed signs of oxidative stress. The study participants also had larger amounts of byproducts caused by this type of oxidative damage in their blood.
"This study provides the first evidence that BPA exposure during pregnancy can induce a specific type of oxidative stress known as nitrosative stress in both the mother and offspring," Padmanabhan said. "These findings demonstrate that more studies like this one are needed to determine the disease risk of exposure to BPA."
"In the interim, these results indicate that pregnant women should minimize their exposure to BPA to safeguard their babies and themselves from oxidant injury," she concluded.
The research was supported by grants from the National Institutes of Health's National Institute for Environmental Health Sciences, National Institute of Diabetes and Digestive and Kidney Diseases, and the U.S. Environmental Protection Agency.