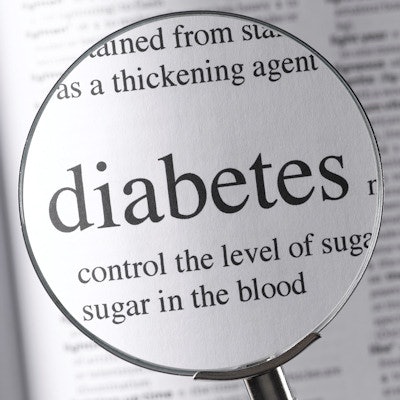 New research published in the Journal of the American Dental Association found a link between a patient's diabetes status and dental visits. People with diabetes and prediabetes visit the dentist less frequently than those without diabetes, the study found.
The researchers were particularly surprised that those with diabetes visited the dentist less often, since diabetes has been repeatedly linked to periodontal disease. The pattern is concerning because people with diabetes need regular dental visits for prevention, noted senior study author Bei Wu, PhD (JADA, March 31, 2018).
"For people living with diabetes, regular dental checkups -- paired with proactive dental and diabetes self-care -- are important for maintaining good oral health," Wu stated in a New York University (NYU) press release. "Regular dental visits provide opportunities for prevention, early detection, and treatment of periodontal disease, which can potentially help with blood glucose control and preventing complications from diabetes."
Wu is a professor at NYU's Rory Meyers College of Nursing and the director of Global Health & Aging Research in New York. Her co-authors are from East Carolina University in Greenville, NC.
Furthering the diabetes-perio link
Diabetes and prediabetes affect about 45% of the U.S. population, and multiple studies have shown a relationship between diabetes and periodontal disease. Yet few, recent studies have investigated dental care trends among people with diabetes, prediabetes, and no diabetes.
The researchers, therefore, parsed data from 2.5 million U.S. civilians to find connections between diabetes status and dental visits. They used 2004 to 2014 data from the Behavioral Risk Factor Surveillance System, a phone survey created by the U.S. Centers for Disease Control and Prevention, and included adults at least 21 years old who had at least one tooth in their analysis.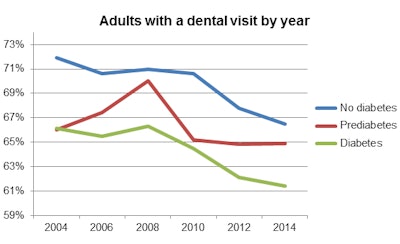 Dental visits significantly declined for all adults regardless of diabetes status between 2004 and 2014. However, people with diabetes and prediabetes visited the dentist less frequently than those without diabetes.
Age, income, and health insurance also significantly affected the association between dental visits and diabetes status. Most notably, the relationship between diabetes and income was strongest for those with a household income of $25,000 to $49,000 and for those without health insurance.
"The significant interactions between year and income, diabetes and income, and diabetes status and health insurance reaffirmed that a main barrier to dental services is financial resources," the authors wrote. "The increasing impact of income on annual dental visits in recent years might reflect the stagnation of income for many Americans."
More research for prediabetes and perio
A couple of explanations could account for the differences in dental care use among people with diabetes, prediabetes, and no diabetes, the authors noted. First, people with diabetes may not know about diabetes' impact on oral health. Furthermore, those with diabetes more frequently report that cost is a prohibitive factor for dental care.
"Healthcare providers and public health professionals should promote oral health in diabetes management."
— Bei Wu, PhD
The study also had a number of shortcomings, most notably that diabetes status and dental visits were self-reported. Thus, the findings may be subject to recall bias and cannot be generalized to those who do not know their glycemic status. Furthermore, the reason for an annual dental visit was not reported in the study, so respondents may have only visited the dentist because of a serious problem and not for preventive care.
Nevertheless, the study is important because it is one of the first to explore the relationship between prediabetes and dental care. The authors hope future studies examine the link between dental visits and the development of diabetes in this population, and that their research encourages those with diabetes to visit the dentist.
"Healthcare providers and public health professionals should promote oral health in diabetes management and encourage people with diabetes to visit a dentist at least annually," Wu stated. "Increasing access to dental services is vital to achieving this goal."