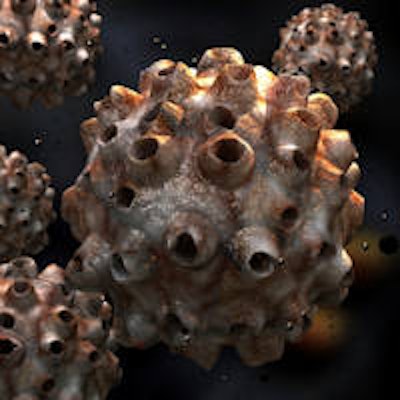 The number of 13- to 17-year-old boys and girls in the U.S. receiving the human papillomavirus (HPV) vaccine has increased for the second year in a row, but about half of all U.S. adolescents still haven't received it, according to a new report from the Centers for Disease Control and Prevention (CDC).
"HPV vaccine prevents cancer," stated Anne Schuchat, MD, in a CDC release. Dr. Schuchat is the assistant surgeon general and director of CDC's National Center for Immunization and Respiratory Diseases.
"HPV vaccine prevents cancer."
— Anne Schuchat, MD, director, CDC National Center for Immunization and Respiratory Diseases
About 27,000 women and men in the U.S. are diagnosed with a cancer caused by HPV infection annually. HPV vaccination could prevent most of these cancers from developing, the report authors noted (Morbidity and Mortality Weekly Report, July 31, 2015, Vol. 64:29, pp. 784-792). The CDC recommends the vaccine for girls and boys at 11 to 12 years.
The CDC analyzed data on more than 20,800 U.S. adolescents through the 2014 National Immunization Survey-Teen. The latest estimates show that 60% of adolescent girls and 42% of adolescent boys have received one or more doses of the HPV vaccine. This was an increase of 3% for girls and 8% for boys from the 2013 survey.
"The large increases in these diverse parts of the country show us it is possible to do much better at protecting our nation's youth from cancers caused by HPV infections," Dr. Schuchat stated. "We are missing crucial opportunities to protect the next generation from cancers caused by HPV."
Effective strategies
An effective recommendation from a healthcare professional is crucial to a parent's decision to get the HPV vaccine for their children, the authors noted. Clinicians should recommend the HPV vaccine the same way and at the same time they recommend other vaccines for adolescents, according to the CDC.
The CDC noted that effective strategies for increasing the number of those who are vaccinated include the following:
Establishing links between cancer organizations and immunization organizations to emphasize HPV vaccination in cancer prevention
Healthcare provider education initiatives, including reminding doctors and nurses to take every opportunity to strongly recommend HPV vaccine, especially when they recommend the two other vaccines at age 11 to 12 years and the annual flu vaccine
Practice-based quality improvement efforts by state and local health departments, such as assessment of a clinic's HPV vaccination coverage levels and providing feedback on how to improve coverage
Public communication campaigns
Reminder-recall interventions, such as using immunization information systems to send reminders to parents about vaccinations for which their child is due
Currently, two vaccines are known to protect against HPV infections that have been linked with cervical cancer: Cervarix (GlaxoSmithKline) and Gardasil (Merck Sharp & Dohme).
HPV-related oral cancers growing in U.S.
Another call to action against HPV-related oral cancer was raised by the Pan American Health Organization/World Health Organization (PAHO/WHO). The group noted that rates of HPV-related oral cancer have more than tripled in the past two decades in the U.S., while the incidence rates of many types of cancer have declined.
Researchers from the National Institute of Dental and Craniofacial Research (NIDCR) of the National Institutes of Health, the International Association for Dental Research, the ADA, and other organizations are meeting this week to discuss what can be done about the rise in HPV-related oral cancers. The group will issue recommendations for new research and public health policies.
"Oral cancer associated with HPV is an important emerging health problem," stated Saskia Estupiñán-Day, DDS, head of PAHO/WHO's Oral Health Program, in a press release. "We need more research on the problem, but we also need to develop and implement public health policies to help stem the rise of this disease."
Mirroring the surge of HPV-associated oral cancers in the U.S. during the past two decades, cases of both oral and tonsil cancer have at least doubled among individuals with HIV/AIDS, who are at elevated risk due to weakened immune systems. If current trends continue, the annual number of HPV-associated oral cancers among U.S. males is expected to exceed cervical cancer cases in U.S. women by 2020.
"The increase in HPV-associated oral cancer globally is a growing public health problem in the general population and is exacerbated in individuals infected with HIV," stated Isaac Rodriguez-Chavez, PhD, director of the NIDCR AIDS and Immunosuppression Program.