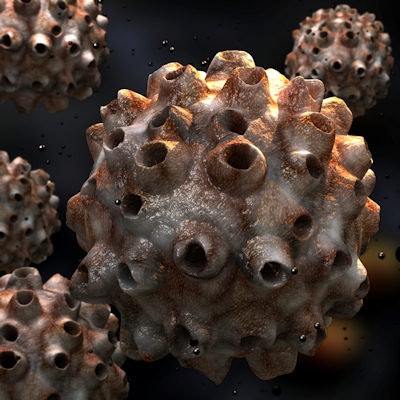 HPV vaccination rates continue to rise, and it may be to everyone's benefit. Researchers discovered evidence of herd protection against oral HPV infections. They detailed their findings in a study published on September 10 in the Journal of the American Medical Association.
The U.S. Food and Drug Administration first approved the HPV vaccine for females in 2006 and males in 2011. While it's not designated for the prevention of oral HPV infections or oropharyngeal cancers, the researchers suggest it may have a prophylactic effect.
"Vaccine-type oral HPV prevalence declined by 37% between 2009-2010 and 2015-2016 in a sample of unvaccinated U.S. men aged 18 to 59 years, suggesting herd protection against oral HPV infections," wrote the authors, led by Anil Chaturvedi, PhD, from the National Cancer Institute in Rockville, MD. "Nonvaccine-type oral HPV prevalence remained unchanged."
The researchers looked at data from almost 14,000 adults who participated in the U.S. National Health and Nutrition Examination Survey between 2009 and 2016. During that time, HPV vaccination rates increased from 7% to 15% in women and 0% to 6% in men.
The percentage of unvaccinated men who tested positive for preventable strains of oral HPV declined from 2.7% to 1.6% during the study period. However, the percentage of infections remained the same for HPV strains not prevented by the vaccine.
While oral HPV infection rates declined for men, the results were not significant for women. This could be because the higher rates of HPV vaccination in women may have contributed to the decrease of new infections in men, the researchers noted.
"Herd protection likely arises from increased levels of female HPV vaccination in the U.S. population," the authors wrote. "The lack of herd protection toward oral HPV infections in unvaccinated women could reflect low statistical power due to low prevalence in women."
The study relied on self-reported HPV vaccination status, and there was not enough statistical power to calculate herd protection by age group, the researchers noted. Nevertheless, they hope their research is a springboard to evaluate whether it may be valuable to vaccinate more of the U.S. population.
"The estimated herd protection should be incorporated into evaluations of the cost-effectiveness of HPV vaccination of men older than 26 years," they concluded. "Vaccine trials of oral HPV incidence and persistence in men should inflate sample sizes to account for herd protection."