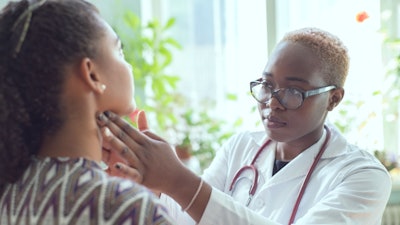 Several genomic alterations and signatures found in head and neck cancer (HNC) may explain racial disparities in screening, detection, treatment, and survival, potentially paving the way for more personalized diagnosis and treatment, according to a recently published study in Clinical Cancer Research.
Researchers led by Dr. Fatemeh Momen-Heravi, MPH, PhD, of the Columbia University College of Dental Medicine analyzed the molecular features of HNC, focusing on patients with African ancestry. They found that patients of African ancestry had a genetic pathway that may explain the development of more aggressive HNC tumors (Clin Cancer Res, March 1, 2023, Vol. 29:5, pp. 910-920.). The results will inform a more personalized approach to diagnosing and treating these types of cancers in minority populations, according to Momen-Heravi.
"Our findings have the potential to help develop more individualized and targeted screening, diagnostic, and treatment modalities to improve health outcomes for Black patients with head and neck cancer," she said in a statement.