New York University (NYU) researchers suggest that ORAI1 calcium channel activity in oral cancer cells could be targeted to reduce the growth of oral tumors and reduce pain, according to a study that was recently published in Science Signaling.
ORAI calcium channels, named after the three sisters in Greek mythology who guarded the gates of heaven at Mount Olympus, play an important role in controlling how much calcium enters cells, explained senior author Rodrigo Lacruz, PhD, in a news release from NYU.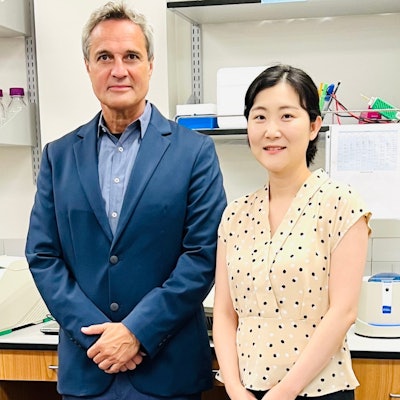 "These calcium channels can be a source of good or bad for cells," Lacruz said. "Calcium entering cells is necessary for many good things, but too much calcium for a long time has the opposite effect."
In the study, the researchers first analyzed tissue samples from human oral cancer tumors and healthy tongues. They found that the ORAI1 gene, which contains instructions for creating the ORAI1 calcium channel, was heavily overexpressed in the tumors but was not in healthy tissue (Sci Signal, September 5, 2023, Vol. 16:801).
Next, they examined human oral cancer cells and found that activating the ORAI1 calcium channel (but not other calcium channels) caused a large influx of calcium into cancer cells. This influx increased a calcium-dependent enzyme called matrix metalloprotease 1 (MMP1) that is secreted outside of cancer cells. MMP1 is abundant in multiple types of cancer, including oral cancer, where its overexpression is associated with metastasis and poor prognosis, the researchers noted.
Removing the ORAI1 gene from oral cancer cells, however, changed the course of the disease in animal studies. When mice were inoculated with cancer cells lacking the ORAI1 gene, tumors grew more slowly and were less painful, they reported.
Several U.S. Food and Drug Administration-approved drugs block the ORAI1 calcium channel, but they have not yet been tested in oral cancer, according to the group. In future studies, the researchers will determine whether nanoparticles can be loaded with an ORAI-blocking drug and precisely delivered into the tongues of animal models to stop the progression of oral cancer and eliminate pain.
"In light of the ongoing opioid crisis, our study paves the way for validating novel pain treatments in oral cancer," Rajesh Khanna, director of the NYU Pain Research Center and a co-author of the study, added.