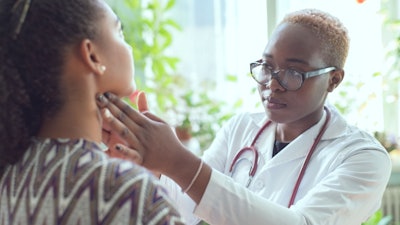 Experts at Ohio State University are emphasizing the need for HPV vaccinations, with only 54.5% of youth between the ages of 13 and 15 vaccinated as of 2020, according to the U.S. National Cancer Institute.
High-risk strains of HPV are linked to an increased risk of cervical cancer and cancers of the head and neck (including the mouth, base of the tongue, and throat). Although an HPV vaccine has been available since 2006, lack of awareness about it as a means of preventing cancer later in life has slowed progress in preventing these cancers, said Dr. Matthew Old, a head and neck surgeon at the university's Comprehensive Cancer Center.
"We have a long way to go in educating the public about the importance of HPV vaccination in youth, and of the risk factors and warning signs of HPV-related cancers for adults who did not have an opportunity to get vaccinated in childhood," Old said in a Ohio State University news article.
Recent estimates suggest that middle throat cancer, or oropharyngeal cancer, may become one of the top three cancers among middle-aged men in the U.S. by 2045 and the most common form of cancer among elderly men in the next 10 years, according to Old. This rise of middle throat cancers in this age group may be due to the impact of HPV infection before vaccines were introduced in 2006, he noted.
"I strongly encourage all parents with children of vaccination age to consider the HPV vaccine. Data increasingly show this is a powerful tool to prevent cancers later in life, and HPV is a risk factor that all genders should be aware of," Old said.