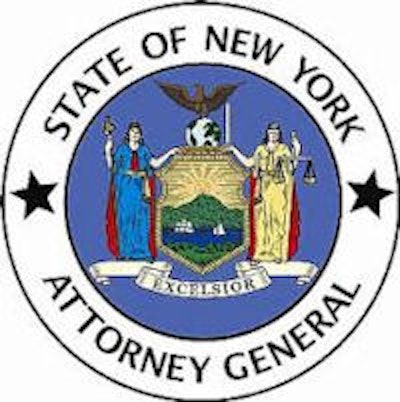 New York State Attorney General (AG) Eric Schneiderman announced a settlement on June 18 with Aspen Dental Management that requires the company to change the way it does business in the state.
In addition, Aspen Dental Management will pay a $450,000 civil penalty and also pay an independent monitor that will oversee the implementation of the settlement over a three-year period, according to a press release from the AG's office.
"Medical and dental decisions should be made by licensed providers using their best clinical judgment, and should not be influenced by management companies' shared interest in potential profits," Schneiderman stated in the release. "By enforcing New York's laws banning the corporate practice of medicine and fee-splitting between medical practitioners and nonlicensed individuals and entities, today's agreement ensures that New Yorkers receive quality dental care."
Investigation launched
The attorney general's office launched an investigation into Aspen Dental Management after receiving more than 300 consumer complaints since 2005. Consumers filed complaints against what they believed were office locations of the Aspen Dental chain regarding quality of care, billing practices, misleading advertising, upselling of services and products they felt were unnecessary, and unclear or incomplete financing terms for dental care.
"Medical and dental decisions should be made by licensed providers using their best clinical judgment, and should not be influenced by management companies' shared interest in potential profits."
— New York State Attorney General Eric Schneiderman
According to the office, its investigation found that Aspen Dental Management did not "merely provide arms-length, back-end business and administrative support to independent dental practices."
The investigation revealed that Aspen Dental Management developed what amounts to a chain of practices "technically owned by individual dentists but which were subject to extensive control by Aspen Dental Management," which is a violation of New York law.
"Through an array of business practices, Aspen Dental Management routinely makes business decisions for the clinics that directly impacted patient care," the AG's office stated.
These business practices included "incentivizing and otherwise pressuring staff to increase sales of dental services and products; implementing revenue-oriented patient scheduling systems; and hiring and oversight of clinical staff, including associate dentists and dental hygienists," according to the release.
As part of the settlement, Aspen Dental Management will be required to do the following:
Cease to exercise any control over dental practices' clinical decision-making.
Not communicate directly with practices' clinical staff concerning the provision of dental care, sales of services or products to patients, or the amount of revenue generated by services or products.
Not be the employer of the practices' clinical staff.
Not place limitations on dental practice owners' practice of dentistry.
Not split patients' fees with the clinics, which is illegal in New York.
Make clear to consumers that Aspen Dental Management is not a provider of dental services and that it provides only administrative and business support servicers to dental practices that are independently owned and operated by licensed dentists.
The company further agreed not to share in the dental practices' fees for professional services rendered, keep the practices' finances separate from its own, and allow the practices to have full and complete control over their revenues, profits, incomes, disbursements, bank accounts, and other financial matters and decisions.
Aspen Dental Management is based in East Syracuse, NY, but operates nationwide. The company provides business support and administrative services to seven independently owned dental practices that maintain 40 offices in New York. The affected dental practices are Aspen Dental Associates of Central New York, Aspen Dental of Rochester, Dental Services of Western New York, Dental Services of Dunkirk, Aspen Dental Associates of Hudson Valley, Dental Health Services, and Judge Dental.
Aspen Dental Management issued a statement that was cited by several publications, including the WWNY-TV website:
"We are deeply disappointed with the characterization of Aspen Dental Management in a press release issued today by the Office of the Attorney General of the State of New York, which does not accurately reflect the terms of the Assurance of Discontinuance, reached after three years of discussions.
"Contrary to the headline of the press release, [Aspen Dental Management] does not, nor has it ever, made decisions about clinical care for the 1.2 million patients who visited independently owned and operated Aspen Dental-branded practices in New York State over the past 10 years. To suggest that the dentists only "technically" own their practices is a gross misstatement of fact. Today, and every day, the owners of these practices are in their offices, treating patients and exercising complete control over all clinical decisions. Contrary to the sensationalized allegations in the press release, [Aspen Dental Management] has never employed clinical staff nor has it exercised any control over clinical care.
"For the past two decades, [Aspen Dental Management] has provided nonclinical business support services to independently owned and operated dental practices. As an organization that employs more than 500 people in the region, we are proud to have successfully grown our business right here in New York State. [Aspen Dental Management] contributes nearly $100 million to the regional economy each year in employee wages and benefits, locally sourced goods and services, and local tax contributions.
"The focus ... remains the same: We care for the people who care for the patients by providing business support to the independent dentists who own and operate Aspen Dental-branded practices. With [Aspen Dental Management] supporting the administrative and nonclinical aspects of their business, dentists are free to do what they do best: Care for their patients."
A copy of the settlement can be found on the New York attorney general's office website.