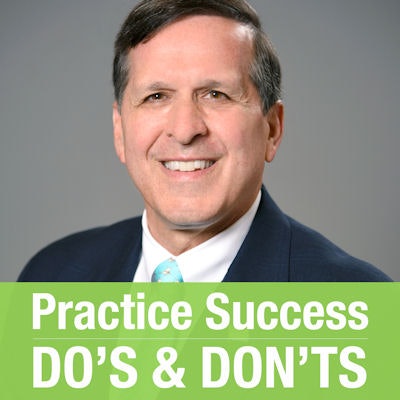 Most people only see their dentists every six months or so for a hygiene check. And while it's great that patients are staying on top of their dental hygiene, it's difficult for dentists to truly connect with them when they don't see them very often. Connecting with patients is critical to maintaining your patient base, so you must be creative when it comes to staying in touch. Try a mix of both traditional outreach methods (e.g., newsletters or brochures) and newer methods on social media. And remember, the frequency of connectivity is just as important as the vehicle. Stay in touch with patients often and you'll build long-lasting relationships that contribute to practice success.

Learn more about your patients. You should get to know more about your patients than their names. One of our recommendations is to learn one new thing about every patient every time they walk into your office. Keep a record of this personal information so you can refer back to it and scan the record prior to each patient appointment. It only takes a few seconds but creates a powerful effect.

Don't forget to continue to communicate with patients each month. Create an ongoing communications program that contacts patients each month with important practice updates, dental information, and messaging that communicates the practice's dedication to its patients. This communication can be delivered using multiple forms of outreach including email, texts, snail mail, or even handouts and brochures. It's also important to disseminate this information to patients during the conversations that you have with them at hygiene visits.
Roger P. Levin, DDS, is the CEO of Levin Group, a leading dental management consulting firm, and one of the most sought-after speakers in dentistry. Dr. Levin has authored 65 books and more than 4,000 articles on dental practice management and marketing. You can sign up for the Levin Group Tip of the Day.
The comments and observations expressed herein do not necessarily reflect the opinions of DrBicuspid.com, nor should they be construed as an endorsement or admonishment of any particular idea, vendor, or organization.