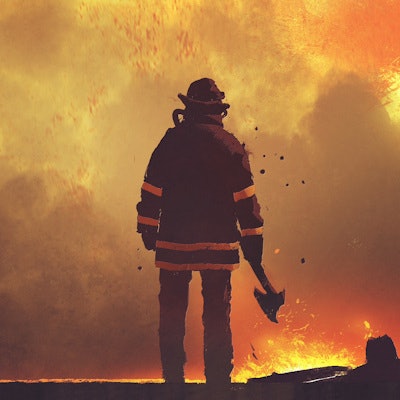 A dentist in Washington was arrested after dousing gowns and masks with some type of accelerant to start fires at his office in response to getting evicted for not paying his rent, according to news reports.
Mohammad "Matt" Rafie, DDS, who operated A to Z Dental in a building in Bellevue that housed other dental and medical offices, was charged with first-degree arson.
Prosecutors called Dr. Rafie's actions especially egregious, noting that he put numerous people, including dentists, doctors, and patients who were at the 28 other offices located in the building, at risk and wasted personal protective equipment (PPE). The COVID-19 pandemic has led to a severe and mounting shortage of PPE, specifically N95 respiratory masks, gloves, and gowns for healthcare workers around the globe.
He was released on March 26 after posting $100,000 bail. The 53-year-old will be arraigned in May.
How it started
On March 23, firefighters found three separate fires at Dr. Rafie's dental office. A box of medical supplies was on fire in the corner of the office, and another box of supplies, including gowns and masks, was ablaze in a drawer of a filing cabinet. A third box of supplies, which was next to an open canister of oxygen, was on fire in the office's x-ray room. Oxygen tanks can ignite a fire or explode if they get too close to flames, according to the reports.
Though the fires activated the office's sprinkler system, firefighters had to extinguish the flames. The fires were considered suspicious due to the office having an overwhelming odor of accelerants.
While firefighters put out the fires, Dr. Rafie approached fire department personnel who were stationed in the office building's parking lot. The dentist told them that he was cleaning his office when he knocked over an oxygen tank, accidentally starting a fire. A lighter also was found in Dr. Rafie's car. He was arrested that evening.
More adds up
Dr. Rafie had been working out of that office since 2017. The investigation concluded that he was getting evicted because he failed to pay any rent in 2020. Evidence showed that the dentist had financial difficulties and that he was a voracious gambler at local casinos, according to prosecutors.
A search of Dr. Rafie's home recovered clothing and shoes that were covered in accelerants and hidden in a suitcase. Accelerants were detected in every room of his dental office. Police also found a butane lighter and a five-gallon water jug, which they believe he used to transport an accelerant to the office.
Damage done
In addition to the damage sustained at Dr. Rafie's office, the fires caused significant smoke and water damage to an orthodontist's office located below his office. They also caused ceiling tiles and insulation in the building's parking garage to collapse.