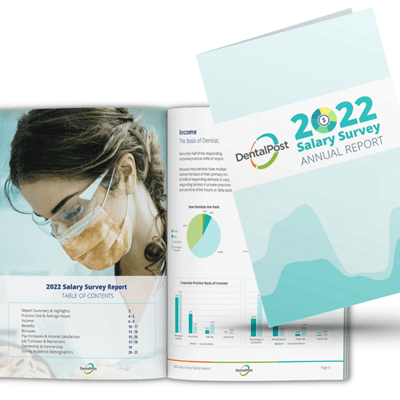 Overall wages for the dental industry have increased, despite the challenges posed by the pandemic, according to a survey released by DentalPost on January 11. However, with the increase in wages lurks the threat of turnover in some front office roles.
Even with the pandemic going into its second year, the dental industry as a whole has fared well in terms of wages. Overall wages across dental industry roles have increased in the past two years, and the number of clinical workers planning to apply for new jobs has decreased, according to DentalPost.
"So much has changed for the dental industry in the last year, and many dental professionals are wondering if the grass is greener on the other side," said Tonya Lanthier, RDH, DentalPost founder and CEO, in a release.
Income satisfaction for dentists, hygienists
Among dentists who responded to the survey, more than half reported being "satisfied" or "very satisfied" with their income. One in five dentists received a pay increase within the past year.
In terms of salaries for dentists, the six highest-paying locations averaged dental incomes between $349,800 and $409,333. The top two locations -- Washington, DC, and Puerto Rico -- reported salaries of at least $400,000.
Roughly 29% of dentists reported income dissatisfaction, and among these dentists, the average income was below $200,000. Arkansas reported the lowest median salary, at $105,000.
With respect to dental hygienists, the report showed rising wages and increased income satisfaction as well. Compared with the previous year's survey, income satisfaction among hygienists rose 30%.
The report showed that in 2021, 43% of dental hygienists earned more than $70,000, up from 34% in 2020. The number of hygienists who make more than $80,000 rose from 15.5% in 2021 to 21% in 2022. Among hygienists who reported income dissatisfaction, the median income was $64,000.
Less stability for nonclinical staff
DentalPost also forecasted a potentially troubling development regarding higher turnover rates of administrative staff. Many people in these positions could move outside the dental industry to find higher-paying positions given that they have skills that are generalizable to other industries.
"The highest risk for team turnover in the next year is among dental front office workers," the company said. "The survey indicates turnover could be as high as 30% among administrative team members if they find higher-paying positions. And because they have administrative experience, many of these jobseekers could move to jobs outside the dental industry."
Other notable highlights include the following:
In the next two years, 11% of dentists plan to retire.
In the next 12 months, 29% of associate/employee dentists intend to apply for a new job.
Within the next year, 27% of dental assistants plan to look for a new job.
In the past year, 39% of front office staff members applied for a new job.
More than 13,000 dental professionals were surveyed by DentalPost, including dentists, dental hygienists, dental assistants, and dental practice front office team members. They were asked about salary, compensation, bonuses, benefits, and work conditions in their dental teams and offices, the company noted.
"Our 2022 Dental Salary Survey Report, which is specific to each role, will help dental professionals and practices gauge competitive compensation and navigate career and hiring decisions," Lanthier said.