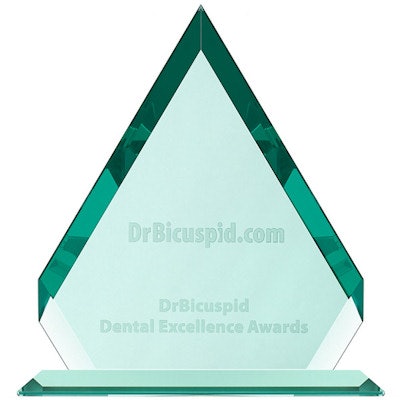 DrBicuspid.com is now accepting nominations for the 2023 Cuspies awards. The awards celebrate the best and brightest in dentistry, recognizing outstanding people, products, and events between November 1, 2021, and September 30, 2022.
This year's awards feature two brand new categories, Dental Educator of the Year and Hygiene Educator of the Year, to recognize outstanding individuals who are driving the conversation on social media about oral health. The year has also been changed to denote the calendar year in which the awards are finalized and given -- in this case 2023.
The Cuspies categories for 2023 are as follows:
Dental Educator of the Year
Hygiene Educator of the Year
Best Dentistry Training Program
Best Hygiene Training Program
Dentist Influencer of the Year
Hygienist Influencer of the Year
Best New Imaging Product
Best New Hygiene Device
Best New Restorative Device
Best New Dental Software
Best New Consumer Product
Most Significant News Event in Dentistry
Scientific Paper of the Year
Hottest Dental Procedure
Don't delay nominating your favorite people, products, and events. Nominations are only open through Sunday, November 6.
Like last year, your nominations and votes are crucial for determining the winners. Below is how the process works:
DrBicuspid.com members submit nominations for the awards. Eligible nominees with the most votes become semifinalists, which will be announced later this year.
DrBicuspid.com members will vote for the semifinalists they want to see as finalists. The two semifinalists with the most votes become the finalists.
A prestigious panel of experts will vote for the finalists they would like to see as the 2023 Cuspies winners. The finalists with the most votes will win their designated category.

The 2023 Cuspies winners will be announced in 2023. Trophies will be presented at the Chicago Dental Society Midwinter Meeting in February.