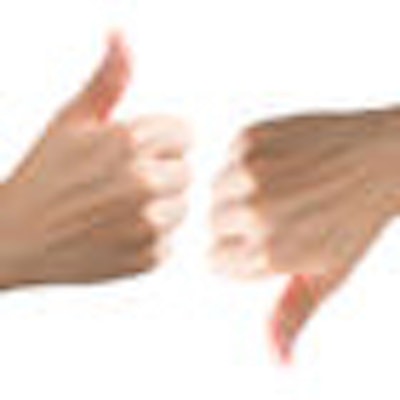 A proposal in Virginia to allow a new category of dental personnel, the dental assistant II (DAII), to use high-speed rotary instruments has been turned down by the state Board of Dentistry.
The proposal, put forward by Denice Burnette, CDA, EFDA, the only DAII working in Virginia, prompted heated debate among the dental community, with opponents calling it a threat to patient safety.
"Allowing dental assistants II to use high-speed rotary instruments has the potential for serious harm and is not in the interest of public health and safety," the dental board stated in its decision, issued June 8 following a board meeting. "Additionally, there may be a statutory prohibition since §54.1-2729.01 requires that only tasks that are reversible may be delegated to dental assistants II."
Virginia established the DAII category in March 2011. DAsII are defined as a person under the direction and direct supervision of a dentist who is registered to perform pulp capping procedures, pack and carve amalgam restorations, place and shape composite resin restorations, take final impressions, use nonepinephrine retraction cords, and perform final cementation of crowns and bridges after adjustment and fitting by the dentist.
"I personally feel it is best left to dentists."
— Tina Allen Bailey, CDA, president,
Virginia Dental Assistants
Association
Burnette, who worked in Pennsylvania before moving to Virginia, was trained to use high-speed instruments and was allowed to use them in dental practice settings in Pennsylvania, she told DrBicuspid.com. She contends they are necessary for her job.
"You need to be able to use high-speed instruments when you are doing fillings because slow speed just does not work as well," she said.
Burnette said that it would help her office tremendously since right now she has to frequently stop and wait for the doctor to come and help with procedures.
Many individuals expressed outrage at the proposal, and comments in a public forum on Virginia's Regulatory Town Hall website claim that a blanket approval of this proposal will put patients in danger.
Burnette, who trained as an expanded functions dental assistant (EFDA) in Pennsylvania -- which is equivalent to Virginia's DAII status -- said some of the controversy stems from the title DAII and that people are not distinguishing them from dental assistants.
"It causes confusion," she said. "Several other states use the term EFDA; Virginia is the only one that has decided to call it DAII."
Extensive training
In Virginia, a dental assistant I must complete a course or earn certification to operate x-ray equipment, and must be certified in basic resuscitation techniques or as an anesthesia assistant.
To work as a DAII, certified dental assistants need to enroll in an accredited training program that offers 50 hours of didactic instruction in dental anatomy and operative dentistry and also pass a written exam.
They also have to do 150 hours of laboratory training in four modules that includeamalgam restorations, including pulp capping procedures; composite resin restorations; taking final impressions and use of nonepinephrine retraction cords; and cementation of crowns and bridges after adjustment and fitting by the dentist. Then they have to take a practical exam. Finally, they need 300 hours of clinical experience in a dental office under the direct supervision of a dentist and pass a comprehensive exam.
"It's not a little weekend course," Burnette said. "The people on the forums do not understand how much education and training EFDAs go through."
A number of commentators on the Regulatory Town Hall forum were hygienists who felt that dental assistants are not qualified to use high-speed instruments.
"Hygienists, after years of education, taking national and clinical boards, are not licensed to use a high-speed rotary instrument. Dental assistants do not have the educational level to allow them to use something that performs irreversible treatment (tooth structure removal)," one commentator wrote.
"A lot of hygienists wrote comments on that forum, but they went to school to clean teeth, and I went to school to fill teeth and it's totally different," Burnette said. "It took me five years to become an EFDA, and I still am not allowed to clean teeth."
Proper training required
Roger Wood, DDS, president of the Virginia Dental Association (VDA) and past president of the state dental board, said that when using high-speed instruments, it all comes down to training, and dentists are trained to use them.
At present, DAsII are only allowed to use slow-speed instruments for all the functions they are qualified to do in Virginia, he added.
Public health and safety have always been an issue of great concern in Virginia, and this petition struck at the center of that issue, Tina Allen Bailey, CDA, president of the Virginia Dental Assistants Association, stated in an email to DrBicuspid.com.
"While I am sure Ms. Burnette feels she is qualified and capable of operating a high-speed rotary instrument in the mouth, I, along with many of my colleagues, personally feel it is best left to dentists," she added.
DAII in Virginia is very new, and there are currently regulations in place, along with requirements for training and registration, but educational facilities have yet to be established to provide the required training, she explained. Current educational requirements for a DAII do not include high-speed handpiece usage training.
"I feel the board absolutely made the correct decision on this," Bailey said.
John Marino, DDS, a VDA delegate who helped structure the proposals that led to the current regulations, wrote in the town hall forum that "allowing the use of high speeds by anyone other than a licensed dentist to cut human tissues constitutes far too great a risk to the public."
According to Burnette, her proposal would have benefited dental practices that are stretched thin in small towns and rural areas. For example, Galax, VA, where she practices, is a small town with very few dentists, she noted.
"The dentist can only do so much," she said. "I would like people to be more educated about the function of the EFDA."