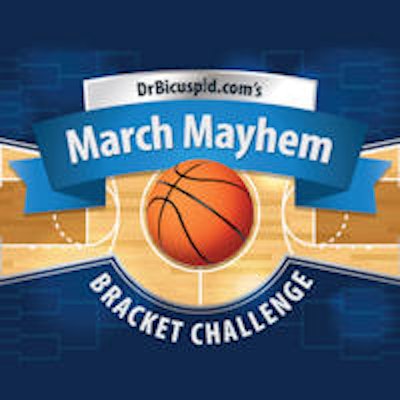 With the conclusion of DrBicuspid.com's March Mayhem Bracket Challenge, we wanted to salute the prize-winning dentists and dental assistant, highlight their methods for picking winners, and thank the sponsors for their generous participation.
David Hurlbrink, national sales manager at DrBicuspid.com, acknowledged the participation of sponsors Sirona Dental, DrQuicklook, Isolite Systems, and MacPractice, and Nomad, a brand of the KaVo Kerr Group.
"Without these sponsors, this event wouldn't have been possible," Hurlbrink said. "We couldn't have done this without their generous support."
The grand-prize winner was Gil Spector, DDS, who won a Sirona Schick 33 digital sensor with installation.Dr. Spector said he chose his bracket mostly on instinct, knowing he would have to pick a couple of upsets.
Thomas Runco, DDS, was the second-prize winner of a Nomad Pro 2 handheld x-ray system. Dr. Runco said his strategy was to "go with my gut."
He figured most participants would choose the University of Kentucky. So, "if I wanted to win, I had to go with [a different team] and hope for the upset," he said.
Third-place winner was Stephen Miely, DDS, and the fourth-place winner was David Landau, DDS. Dr. Miely won the DrQuickLook SD Plus HD intraoral camera with all accessories, while Dr. Landau was awarded a complete Isolite system with five boxes of mouthpieces.
The fifth-place winner was dental assistant Nadeen Nice. Nice won an Apple iPad and a free MacPractice consultation. "I normally don't watch basketball, but I did watch March Madness this year," she said.
DrBicuspid.com wants to thank everyone who participated and especially our sponsors.