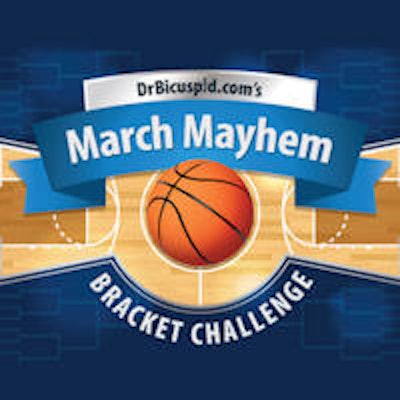 How is your bracket doing in DrBicuspid.com's March Mayhem Bracket Challenge? Is your choice to win the tournament still alive? How is your alma mater doing? Did you know that, even if you had a difficult first weekend of the tournament, you can still win?
That's right -- one grand prize will be awarded to a randomly selected participant who is among the top 10% of eligible point scorers in this sweepstakes. So, while there are more 290 entrants, even if you are behind, you still have a chance to qualify for the grand prize drawing.
Only five points separates the top 35 in the standings, with one member having 52 points (again, before play on Thursday). Where will you stand after each day?
Not surprisingly, the University of Kentucky is the overwhelming choice to claim the crown this year. However, the person who chose North Carolina State looks like a genius, at least before play starts on Thursday, after their upset of No. 1 seed Villanova. The University of Arizona also is a solid choice for many contestants.
Some of the more eye-catching picks to win the tournament included Gonzaga, Notre Dame, Virginia, West Virginia, Iowa, and Iowa State. The Wisconsin versus North Carolina game on Thursday will break some hearts, as both institutions have been chosen by many to advance.
You can also let everyone know how well you are doing in our Forums. And show your school spirit on our Facebook page.