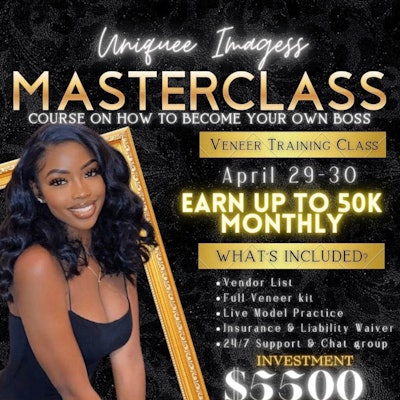 The Missouri Dental Board filed a lawsuit on October 30 against a woman and an unlicensed business, which at least once offered a $5,500 veneer training "masterclass," claiming the business owner performs illegal dental work, according to a story published on November 1 in the St. Louis Post-Dispatch.
The board is suing Ruby Jenkins, known on social media as Victoria Starr, to shut down her business, Uniquee Imagess. On the business's website and its Facebook and Instagram pages, Jenkins reportedly promotes the cheap application of veneers and teeth jewelry, as well as the removal of braces, teeth whitening, and $350 mouthguards, according to the website.
The board filed the suit because only a licensed dentist can legally perform some of the services Jenkins promoted. In the suit, Jenkins is accused of admitting to a dental investigator that she sells services like changing the elastic bands on braces and cosmetic dentistry services, including applying veneers, according to the story.
In September 2022, the board began investigating Uniquee Imagess after receiving a complaint from someone who saw a Facebook advertisement for its services. Soon after, state investigators learned that Jenkins was performing dental services on customers at a business park office in Bridgeton, MO, according to the story.
In addition to wanting to help customers "create a celebrity smile," the business offers a referral program on its website, and, in a March Instagram post, promoted a "Uniquee Imagess Masterclass." The $5,500 training aimed to teach participants how to apply veneers, with which they could earn "up to $50,000 monthly." The course included a full veneer kit, a vendor list, insurance and liability waivers, all-day everyday support, and a live model for practice, according to the post.