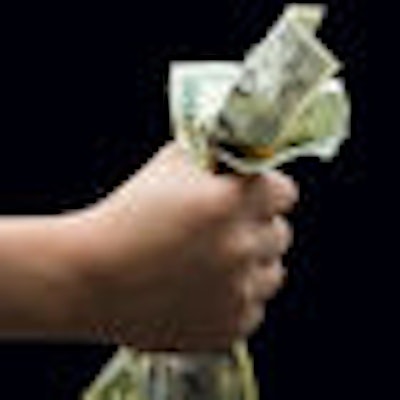 The Massachusetts state auditor reported today that excessive, unnecessary, and even potentially fraudulent claims for dental services are costing the state Medicaid program millions of dollars annually.
An audit of a sample of dental providers found nearly $5.7 million in overcharges and other unnecessary costs, mostly from excessive x-rays, over a period of four years, according to State Auditor Joe DeNucci. His report reviewed more than 360,000 claims submitted to MassHealth, the agency that administers the Medicaid program.
"My report raises serious concerns that Mass Health could be paying a significant amount in unnecessary and unallowable dental claims."
— Mass. State Auditor Joe DeNucci
"My report raises serious concerns that Mass Health could be paying a significant amount in unnecessary and unallowable dental claims," DeNucci said in a statement. "Even worse, there appears to be a culture of using the system to maximize benefits to providers, which leads to reduced services for people in need and the waste of taxpayer funds."
Over the past four fiscal years, payments to the program's dental providers have more than doubled, from $116 million to more than $300 million, the auditor's office said.
Under a contract with the state, Dental Service of Massachusetts administers the program through a subcontract with DentaQuest. MassHealth is responsible for reviewing DentaQuest's performance to ensure compliance with the terms of the contract and all applicable laws, rules, and regulations.
Among the audit's findings:
Numerous x-rays were taken routinely and not for specific purposes, resulting in $5.2 million in unallowable payments. Also, one of the providers routinely billed and received payments from MassHealth for x-ray services that he had not performed for patients.

Because MassHealth has not adequately controlled orthodontic services, one orthodontist in the sample was paid for preorthodontic treatment visits and oral/facial photographic images that exceeded allowable amounts by $321,553 during the audit period.

Although Medicaid regulations require that multiple x-rays taken during routine dental checkups be bundled together and billed as one x-ray to save costs, DentaQuest's claims processing system allowed $162,863 in unnecessary payments to one dental provider for individual x-rays that should have been bundled as one.

DeNucci's review of 258 patient files at 10 dental providers identified 11 instances of double billings totaling $2,694 for the same dental procedure. MassHealth's dental claims processing system failed to identify these as duplicate claims.
Particularly troubling were comments made by DentaQuest's senior dental director that revealed a culture of maximizing the system, DeNucci said. The senior dental director stated that many providers "treat to the benefits allowed and not to members' needs," according to DeNucci. This statement was echoed by a provider who said he bills aggressively and submits claims for payments based on a preset schedule regardless of whether he actually provides the service, he added.
DeNucci recommended that MassHealth work with DentaQuest to develop adequate internal controls to monitor compliance with Medicaid regulations concerning dental services. He also urged MassHealth to seek recoupment of unallowable charges.
"My audits of MassHealth have raised serious concerns that MassHealth's oversight of provider claims needs to be strengthened," DeNucci said. "Because of MassHealth's cost, the important services it provides to people in need, and the severe fiscal crisis the state is facing, taking steps to control spending and eliminate waste require heightened priority."
MassHealth responded with the following statement:
We share Auditor DeNucci's commitment to controlling costs in the Medicaid program wherever possible and have initiated many successful efforts to realize cost savings for the Commonwealth. Over the last two years, while still maintaining access to vital services for our members, we have reduced the MassHealth budget by $1.275 billion. MassHealth regularly refers all appropriate cases to the Attorney General's Medicaid Fraud Division, and we have a longstanding practice of conducting regular reviews to identify overutilization of services. We agree with the Auditor on a number of his findings and have already begun to implement efforts to ensure appropriate billing of MassHealth dental x-ray services.
The agency noted that a recent integrity audit concluded that MassHealth's relationship with the attorney general's Medicaid Fraud Division was noted by the U.S. Centers for Medicare and Medicaid Services as "best practice."
A spokesperson for DentaQuest told DrBicuspid.com that MassHealth's statement stood for them as well.
Copyright © 2010 DrBicuspid.com