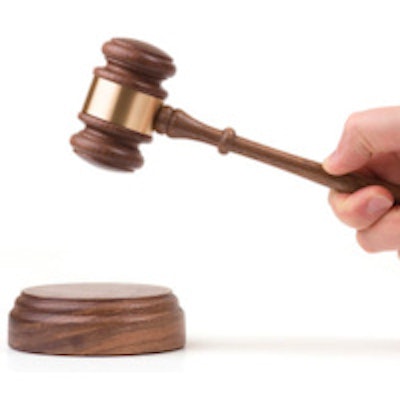 Dentists and other private healthcare providers cannot sue to force states to raise their Medicaid reimbursement rates, according to a U.S. Supreme Court ruling issued on March 31.
This ruling means that dentists and other healthcare providers will have to find a nonjudiciary route to raise reimbursement levels.
In the case Armstrong v. Exceptional Child Center, Justice Antonin Scalia, writing for the majority, overturned a lower court decision and rejected the argument that the "Supremacy Clause" of the U.S. Constitution allowed these lawsuits to continue.
"It is equally apparent that the Supremacy Clause is not the source of any federal rights ... and certainly does not create a cause of action. It instructs courts what to do when state and federal law clash, but is silent regarding who may enforce federal laws in court, and in what circumstances they may do so," Scalia wrote.
In the U.S. Constitution, Article VI, Paragraph 2 is often referred to as the Supremacy Clause. What this means is that the federal constitution, and federal law, generally take precedence over state laws and constitutions.
ADA files brief
The case began in Idaho when companies that provide home care for intellectually disabled patients sued the state over its low Medicaid reimbursement rates. They asked the court to force the state to increase reimbursement rates.
The U.S. Court of Appeals for the Ninth Circuit in San Francisco had ruled in favor of allowing states to be sued, leading to the case being accepted by the U.S. Supreme Court.
The American Dental Association, along with numerous other healthcare associations had filed an amicus curiae brief to the Supreme Court in December 2014, arguing that the circuit court's ruling be upheld.
"While CDA is disappointed with the ruling, we are evaluating its implications and will continue to explore ways to ensure low-income patients have adequate access to dental care."
— Walt Weber, DDS, president, California Dental Association
The ADA, American Medical Association, California Medical Association, and others argued that "the states' failure to comply with the Medicaid Act's 'equal access' provision has a well-documented, negative impact on patient care. Restricting the availability of a judicial remedy would leave Congress's mandate of 'equal access' an empty promise."
The brief continued, focusing on the Medicaid Act's equal access provision.
"In the Medicaid Act, the 'equal access' provision requires that states choosing to accept federal Medicaid funds must set provider reimbursement rates that are, inter alia, 'sufficient to enlist enough providers so that care and services are available under the plan at least to the extent that such care and services are available to the general population in the geographic area,' " the healthcare provider organizations wrote.
"In enacting this provision, Congress recognized that, without adequate payment levels, it is simply unrealistic to expect physicians to participate in the [Medicaid] program," they argued.
"Despite Congress' mandate, 'equal access' has been largely illusory for millions of America's most vulnerable citizens. Motivated largely by budgetary concerns, some states have reduced reimbursement rates without even considering the effect it would have on access to care. These rates often fall below providers' average cost to deliver the service," they wrote. "It is therefore unsurprising that federal courts, medical researchers, and governmental bodies have found a gap between access to healthcare for those with Medicaid, as compared to those with private insurance and Medicare."
Ultimately, this line of argument was rejected by a 5-4 vote by the U.S. Supreme Court.
Scalia addresses Medicaid Act
Scalia, addressing the Medicaid Act in the court's decision, pre-empted any possible argument that the act might allow these legal actions.
"The last possible source of a cause of action for respondents is the Medicaid Act itself," he wrote. "They do not claim that, and rightly so. Section 30(A) lacks the sort of rights-creating language needed to imply a private right of action," he wrote. "It is phrased as a directive to the federal agency charged with approving state Medicaid plans, not as a conferral of the right to sue upon the beneficiaries of the state's decision to participate in Medicaid."
In an email to DrBicuspid.com, California Dental Association (CDA) President Walt Weber, DDS, expressed his organization's disappointment with the decision.
"While CDA is disappointed with the ruling, we are evaluating its implications and will continue to explore ways to ensure low-income patients have adequate access to dental care," Dr. Weber wrote. "Denti-Cal patients experience significant barriers to care as outlined in a recent state audit highly critical of the program. We are working to educate lawmakers on the need for significant improvements to the Denti-Cal program that the state has failed to address."