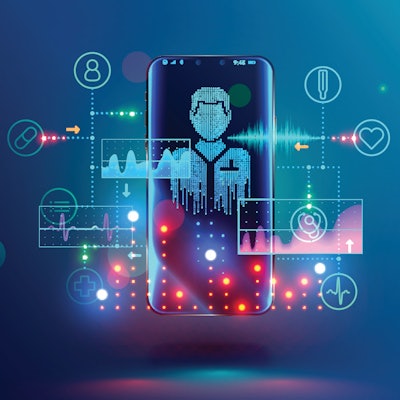 Insurance reimbursement rates didn't differ significantly for remote and in-person visits in an analysis of thousands of oral and maxillofacial surgery claims published August 16 in the Journal of Oral and Maxillofacial Surgery. The findings may encourage more teledentistry visits, according to the researchers.
The COVID-19 pandemic has accelerated the use of teledentistry, but some providers may still be hesitant to implement virtual care because of fear of lower reimbursement costs. The new study put some of those fears to rest and created a compelling case for implementing teledentistry services at oral and maxillofacial surgery and other dental practices.
"Our results suggest that providers can deliver care through telemedicine or in-person visits and still receive similar reimbursement from insurance companies, for both new and established patients," wrote the study authors, led by Srighana Nadella, a Doctor of Dental Medicine candidate at the University of Pennsylvania School of Dental Medicine.
The authors compared more than one year of claims data for telemedicine and in-person office visits at University of Pennsylvania Health System Oral and Maxillofacial Surgery Service. The claims came from the same 13 providers and were limited to Current Procedural Terminology (CPT) codes utilized for both telemedicine and in-person visits.
A total of 6,082 claims from 4,045 patients were included in the analysis. More than 700 patients had both claim types.
In-person visits netted an average reimbursement rate of $109.50 per visit, compared with $98.07 per telemedicine visit. Although in-person visits pulled in a slightly higher dollar amount, the difference was not statistically significant.
In-person visits also had a slightly higher reimbursement-to-charge ratio, but the 2% difference was not meaningful, the authors explained. In fact, when they adjusted the analysis to balance new and existing patients, the difference was no longer significant.
"We found no practically meaningful difference in the reimbursement rates between telemedicine and in-person office visits," they wrote.
One significant finding in the study, however, was the difference in types of patients who opted for each service. When comparing claims for new and established patients, a greater proportion of established patients attended teledentistry appointments (85%) than in-person appointments (63%).
"Perhaps it is easier for providers to continue care via telemedicine for patients they already know instead of trying to build rapport for the first time," Nadella and colleagues hypothesized.
The authors cautioned their study was limited to a single academic institution and did not include reimbursement for facility fees. They suggested that future studies compare reimbursement rates among different insurance providers and institutions. They also asked for researchers to investigate potential differences in total revenue.
"Reimbursement policies vary widely between states and by payor, and they can often be the main driver on whether telemedicine programs are successful," the authors wrote. "Therefore, examining telemedicine reimbursement rates is important, as higher rates may incentivize providers to invest in telehealth technologies and further optimize patient care."