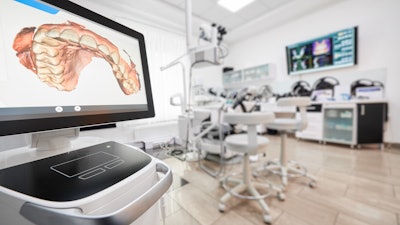 The share of U.S. senior predoctoral dental students in 2023 planning to enter private practice and join a dental service organization (DSO) after graduation rose sharply compared to those in 2018. The report was published on October 20 in the Journal of Dental Education.
This trend was equally pronounced among students from historically underrepresented race and ethnicity groups. Students from these groups who plan to enter a DSO increased by 20 percentage points, the authors wrote.
"Working for a dental service organization (DSO) is rapidly becoming a top choice for respondents stating they were going into private practice immediately upon graduation," wrote the authors, led by Emilia Istrate of the American Dental Education Association (ADEA) Office of Policy and Education Research in Washington, DC.
To understand the influences and motivations for pursuing a career in dentistry, ADEA sent a survey to students. Between February and June 2023, 3,214 senior students from 65 of the 66 accredited U.S. dental schools with a graduating predoctoral class completed the survey. These respondents accounted for 48% of senior students in the 2022-2023 academic year compared to 65% in 2018, according to the report.
Between 2018 and 2023, the share of respondents who planned to join a private practice immediately after graduation increased from 48% to 53%. Meanwhile, 34% of respondents in 2023 planned to go into private practice and intended to join a DSO. In 2018, 16% intended to take a similar path after graduation, the authors wrote.
Also, a significant increase was reported among respondents from underrepresented racial and ethnic groups. In 2018, 21% of historically underrepresented racial and ethnic participants reported planning to work at DSOs. Five years later, 40% of these respondents expressed similar plans, they wrote.
Of those planning to join a DSO-affiliated private practice upon graduation, more were likely to be people of color than colleagues planning to join private practices not affiliated with a DSO.
Nevertheless, the study had limitations, including that weights were not used to rebalance the data to reflect the responses of the 2023 predoctoral senior student population. Therefore, this study only reflects the responses of the study participants, the authors wrote.
With the effect of the COVID-19 pandemic waning and the end of U.S. public health emergency on May 11, 2023, the 2022-2023 academic year was a year of hope. Despite challenges, U.S. dental schools continued to train and graduate oral health professionals, the authors wrote.
"This study finds that some preferences changed between the 2018 and 2023 cohorts," Istrate and colleagues wrote.