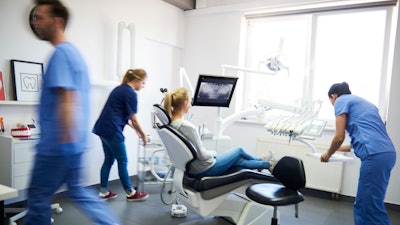 Despite offering incentives, including higher starting wages and health benefits, clinicians reported in April that it remains "extremely challenging" to hire dental assistants and hygienists, according to data released on May 2 from the ADA Health Policy Institute (HPI).
More than one-third of dentists are actively recruiting dental hygienists and dental assistants. About 25% are actively seeking administrative staff and about 15% continue to search for dentists, according to the results from a poll of about 1,000 practicing dentists conducted the week of April 18.
To recruit employees, about 9 out of 10 dentists reported raising starting pay for hygienist and assistant applicants, and approximately half reported adjusting working hours to conform with candidates' needs. Dentists have offered other benefits, including the following:
New retirement plans (23.5%)
Health benefits (21.6%)
One-time sign-up bonuses (9.9%)
Regardless of workforce shortages, in April, dental practices had appointment schedules that were more full compared to the previous year. On average, practice schedules were 87% full, the highest point since April 2022. Schedules have teetered between 83% and 86% since May 2022. Between January 2022 and April 2023, appointment schedules were the highest at 88% in March 2022, according to the results.
Patient no-shows and late cancellations remained the most common factor for unfilled practice schedules in April 2023. About 8 in 10 dentists cited short-notice cancellations as the primary factor that prevented dental practices from reaching a 100% full appointment schedule. This was followed by 45% reporting cancellations made more than 24 hours in advance. Additionally, 38% reported that not enough patients were making appointments, 33% reported trouble filling vacant positions, and 4% reported COVID-19 safety protocols, according to HPI.
Since January 2023, average wait times for both new and existing patients have been increasing steadily. The average wait time for patients to see a dentist has been slightly longer for new patients than existing patients. Now, new patients are waiting 22 business days, while they waited about 18 days in January and February 2023. Current patients are waiting about 12 days, while they waited about 10 in January, according to the data.