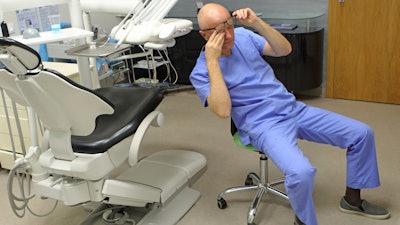 Dental professionals are feeling the heat of staff shortages in the U.K. One-third of team members reported not getting breaks, and half reported worrying about how their exhaustion will affect patient care, according to recently released survey results.
Also, more than one-third of dental professionals reported that fear of legal issues stemming from staff shortages is negatively affecting their mental health, according to the results of a survey from Dental Protection, the trading name of the Medical Protection Society, which is a protection organization for 300,000 doctors, dentists, and healthcare professionals worldwide. The survey was completed by 1,379 dental professionals in the U.K.
"Dentistry is still a rewarding profession -- being able to improve oral health and the quality of life of the public is a privilege which instils a sense of professional satisfaction," Dr. Yvonne Shaw, deputy dental director at Dental Protection, said in a press release. "However, morale in the profession seems to be at a low ebb, and wellbeing concerns are central to this."
The workload is so heavy that 35% of professionals reported they were not able to take breaks during the day to eat or drink, according to the results. Of the respondents, 46% reported concerns that working with too little staff will negatively affect them from delivering quality care.
Meanwhile, 52% of dental professionals worry about how their exhaustion or burnout will affect patient care, according to the survey. Finally, 36% reported being worried that staff shortages will lead to legal issues.
"One of the many problems with staff shortages is the knock-on effect on the mental health of remaining staff who risk becoming exhausted and/or demotivated," Shaw said. "Over half of our members tell us they are worrying about how exhaustion and burnout are impacting the safe delivery of patient care. The effect of not being able to provide optimum standards of care on any healthcare professional's mental health -- due to external factors and pressures outside of their control -- cannot be overstated."
Furthermore, some dental professionals responded to the survey anonymously, including this statement: "It is apparent to me that the dental industry is a hostile place to work. I fear answering my phone or checking my emails, waiting for developments in the dentolegal case against me, or heaven forbid any further cases should arise."
Another dental professional said, "Being a young dentist, dentolegal issues are looming over my head. Especially from patients who have worked the system to their advantage and attempted the same techniques (esp. with young dentists or female dentists or dentists of colour). The anxiety has affected the way I work, my professional goals and physical wellbeing."