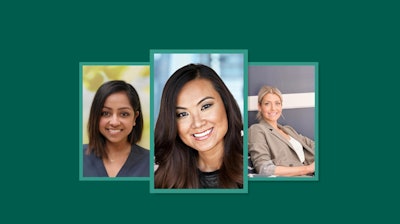 Thriving as a woman in dentistry requires support, collaboration, and flexibility. In recognition of Women's History Month, female leaders discussed with DrBicuspid.com work-life balance and supporting other women on leadership paths.
Trinh Clark, who was named to the new position of senior vice president and chief global customer experience officer at Henry Schein in August 2022, said one of the most meaningful lessons she's learned from other women in the dental industry is the importance of interdisciplinary professional collaboration.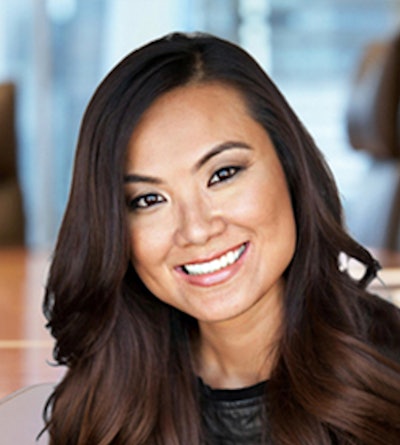 "We are smarter, more capable, and more successful when we come together to support each other, engage in forward-thinking discussions, and drive action to make a meaningful impact in the delivery of healthcare," Clark said.
Dr. Roma Patel, a dentist at an Aspen Dental practice in Pooler, GA, echoed that sentiment, noting that female leaders can empower other women. She constantly pushes those around her to be their best selves, and she's found that the women she has surrounded herself with are rooting for each other's growth and success.
Boosting female colleagues not only builds trust and loyalty among staff, but it builds on the practice's success and reputation, Patel said.
"When your heart is there and we do right by our patients, work becomes a second home, and coworkers become family," Patel explained. "As a woman, I pride myself on an ability to understand the daily struggles of life outside of work and do my best to create an environment to balance the two."
Nobody may understand this more than Lindsay Stewart, RDH, who has worked with Patel for the last six years. The two boast that their similar personality traits, values, and work ethic helped them quickly transform their working relationship into a friendship.
"I have met some great people in this industry and worked alongside some of the strongest women I know, including Dr. Patel," Stewart said. "She has truly been an inspiration and role model for me. Not only have I received endless support throughout my professional career but also during the highs and lows of life, she has given me confidence as a hygienist, pushed me to be my best, and has never held me back."
Plan, pay attention, and follow leaders
Women who want to become leaders in dentistry should, first, set long-term professional goals. They need to know what they are working toward to build their development and growth plans, Clark said.
"This doesn't need to be detailed to the point of desired title, responsibility, and age, but you should set a North Star to ensure you're heading in a direction you're passionate about," she said.
Though the plan may change over time, it can help guide women in how they network and who they reach out to for mentorship, championship, and advocacy, Clark said.
"I think it's important that we all have a mentor(s), champion, and advocate, which are usually different people, to make sure you have the support to hit your goals," Clark added.
Furthermore, women need to hold themselves accountable by socializing these goals and using the available resources provided by their employers, networks, and communities for their personal and professional development, Clark said.
"For my own career growth, I can attribute it to having a positive mindset, adaptability, a desire to learn, and a strong passion to serve others," she explained.
Also, getting and staying on a path to leadership means avoiding getting lost in personal agendas. Instead, women should make patient care the top priority, Patel and Stewart said. Patel wanted to help people feel like she did when she got braces during her childhood. Getting braces was "transformative," giving her a newfound confidence that changed her life, she said.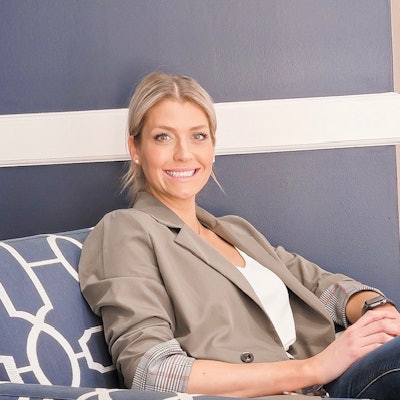 "We love our male coworkers, of course, but we are rooting for women's leadership across the industry," Patel and Stewart said. "Most of the women in this industry become each other's biggest fans. Setting clear, attainable goals and working toward them is what will make the difference in becoming a great leader."
Finally, when in doubt, put on a happy face, Clark said.
"Skewing positive doesn't hurt," Clark said. "It's not always easy, but I try to keep my head up, no matter the challenge in front of me. If you're not smiling (inside and out), take a step back and reassess."
Work-life integration
Women, often the primary caregivers to children and parents, can feel challenged balancing personal and professional lives, but the feat is not impossible.
Clark, who is no stranger to long workdays and periods of traveling, said her most rewarding gift is raising her son. She's grateful that her company offers multiple resources and flexible working models that allow employees to give their best in the office and at home.
"Integration -- not balance -- of my personal and professional lives is the most effective strategy for me in nurturing my overall wellness," Clark said. "There is not enough time in the day to give back the same amount of time that I'm spending on work, so I'm grateful for the flexibility to attend parent/teacher conferences, school events, healthcare appointments, etc."
As full-time employees, busy moms of "wild boys," and nonprofit owners, Patel and Stewart said they give 150% of their effort to every facet of their lives and "openly embrace the chaos." But, admittedly, they couldn't do it without the ongoing support of family, friends, and resources offered by dental service organization (DSO) Aspen Dental. The resources allow employees to accelerate their career paths, grow within the organization, and maintain a sustainable work-life balance, as well as provide a management team and mentors that offer support and flexibility.
Finally, the Aspen Dental network is 80% women, which means that the DSO has given women the ability to create a healthy work-life balance without sacrificing leadership and growth opportunities, they said.
"(Without all of these), it would be impossible to prioritize sharing responsibilities at home and continuing to push each other to be leaders, and for that we are grateful," Patel and Stewart said.