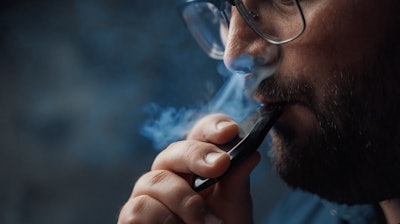 The Ohio State University (OSU) Comprehensive Cancer Center recently received a $3.9 million grant from the U.S. Food and Drug Administration (FDA) that will fund research investigating the effects of e-cigarette flavors on adult smoking behaviors.
The study aims to provide definitive information about the impact of these flavors and help adult smokers stop smoking. It will provide data that may inform the FDA's regulation of flavor use in e-cigarettes. The study will be co-led by Theodore Wagener, PhD, director of OSU's Center for Tobacco Research, and Tracy Smith, PhD, of the Medical University of South Carolina Hollings Cancer Center.
The National Academies of Science, Engineering, and Medicine recently concluded that e-cigarettes are likely to be less harmful than combustible cigarettes. However, Wagener added that more than 1 million e-cigarette products have been banned since 2020, "mostly" due to the rise in youth vaping with flavored e-cigarettes.
The national randomized controlled trial will recruit up to 1,500 participants from across the U.S. The researchers will measure the impact of e-cigarette flavor on several areas, including product uptake and appeal, cigarette cravings, symptoms, dependence, and smoking behavior.
The trial will include sustained and complete switching from cigarettes to e-cigarettes. The team will also use combination nicotine replacement therapy as an FDA-approved comparator to determine the effects of e-cigarettes versus nicotine replacement therapies on smoking.
Smokers will be randomized into groups that prefer flavored e-cigarettes, tobacco-flavored e-cigarettes, or combination nicotine replacement therapy. They will receive products at no cost for 14 weeks. The study participants in the flavored e-cigarette group will be able to change flavors throughout the study period.
The researchers will track changes in smoking via remote exhaled carbon monoxide readings at 12 weeks and 26 weeks after the product switch date.