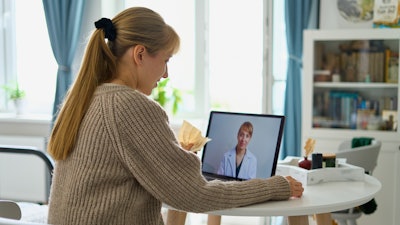 University of Albany researchers have identified barriers to the use of teledentistry. Their report was published on September 7 on the university's Oral Health Workforce Research Center website.
Teledentistry offers an efficient way for dental professionals to triage, consult, diagnose, refer, follow up, and offer health education to patients. It also reduces the number of in-person visits.
The researchers explored the use of teledentistry by safety-net organizations, which include federally qualified health centers, to bridge access to care during the COVID-19 pandemic.
The researchers identified barriers to the expansion of teledentistry, including lack of Medicaid reimbursement, which they said is key for populations primarily served by safety-net organizations. The researchers also reported that after the expiration of the COVID-19 Public Health Emergency on May 11, 2023, only 14 states continue to offer Medicaid reimbursement for teledentistry services.
The team also identified state-level restrictions concerning who is authorized to deliver teledentistry services. In some states, only dentists are allowed to deliver teledentistry services. This limits access to dental services that could be delivered by other oral health providers, including dental hygienists, the researchers said.
The report's authors wrote that while teledentistry proved itself beneficial during the pandemic, dental professionals need to reduce variability in regulation and authorization to improve access to dental services in the future.
The report was supported by the Health Resources and Services Administration of the U.S. Department of Health and Human Services as part of an award totaling $450,000.