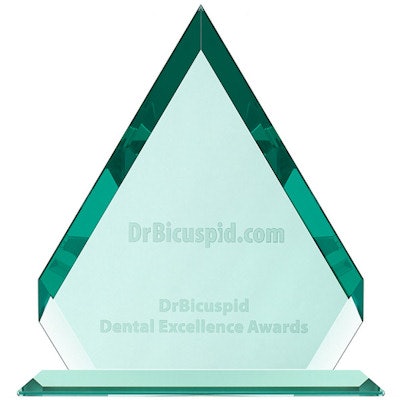 DrBicuspid.com is pleased to announce the winners of the 2023 Cuspies awards. The people, products, and events that took home a trophy reflect the increasingly global and demographic diversity of the profession, as well as the mental health toll experienced by many dental professionals.
The winners educate dental professionals across the world, teach dental terms in multiple languages, and share dental knowledge across content types. Many of the winners are also women or are championed by women in leadership roles, signifying the continued advancements women have made in driving the future of dentistry and dental hygiene.
Congratulations to the winners of the 2023 Cuspies awards, and to the runners-up and semifinalists. See the full list of winners below.
Cuspies 2023 Dental Educator of the Year: Dr. Brittany Seymour, MPH
Dr. Brittany Seymour, MPH, is a pioneering educator in global oral health and a leading voice for digital public health communication. She is the global health discipline director and an associate professor at the Harvard School of Dental Medicine. Her courses have been adopted by dental schools and organizations in 30 countries.
"I think my work resonates because we are building bridges between nations, between programs that don't have oral healthcare and those that do, and between communities who need dental training and trainers who can teach them," Seymour said.
"The challenges the dental profession is facing today are global in scope, and we feel a sense of responsibility to communities near and far. We all want to feel like we can build these kinds of bridges, working together to transform today's problems into shared solutions, and making the world, and ourselves, better in the process.'
Runner-up: Dr. Gordon J. Christensen, MSD, PhD
Cuspies 2023 Hygiene Educator of the Year: Jennifer Turner, RDH
Jennifer Turner, RDH, has worked with hundreds of dental practices across Canada, supporting teams with change management and the implementation of clinical systems to enhance and elevate patient care. She is the vice president of dental hygiene operations at 123Dentist and an award-winning dental hygiene professor.
"Thank you very much for supporting me to be recognized as DrBicuspid's Hygiene Educator of the Year," Turner said. "It is a dream come true to have the ability to share my passion for providing optimal patient care while understanding the business of dental hygiene with my colleagues in North America. It is a privilege that the DrBicuspid audience is resonating with my work to educate, elevate, and inspire that begins and ends with a people-first culture within the DSO space and beyond."
Runner-up: Amber Auger, RDH
Cuspies 2023 Best Dentistry Training Program: Texas A&M University School of Dentistry
The Texas A&M School of Dentistry has been educating dentists with hands-on clinical training for more than 115 years. The school is the largest single oral healthcare provider in North Texas, with departments spanning biomedical sciences, comprehensive dentistry, and public health.
"This recognition wouldn't be possible without the hard work of our incredible faculty, staff, and student body," said a representative for the Texas A&M School of Dentistry. "Our integrated curriculum, translational research, and robust clinical training programs bolster our continued legacy of educating exemplary dental clinicians and providing countless patients with compassionate care."
Runner-up: Tufts University School of Dental Medicine
Cuspies 2023 Best Hygiene Training Program: Texas A&M University School of Dentistry Dental Hygiene Program
The Texas A&M University School of Dentistry Dental Hygiene Program educates oral health professionals to provide education, clinical services, and therapeutic services that support overall health through oral health. The school houses its signature Bachelor of Science in dental hygiene undergraduate program as well as a Master of Science degree in education for dental hygiene.
"Texas A&M - Texas A&M University School of Dentistry is truly honored to receive the 2023 Cuspies Award for both our dental and dental hygiene educational programs," said a representative for the Texas A&M School of Dentistry. "It is an even greater honor to be placed in such distinguished ranks as those past recipients, all who have made significant contributions to the field of dentistry and in shaping the careers of the next generations of dental professionals."
Runner-up: Dental hygiene program at Collin College
2023 Cuspies Dentist Influencer of the Year: Dentists in the Know
"Dentists IN the Know" is a collaborative dental community that brings dental professionals in the know together every week. Best known for its weekly podcast, hosts Drs. Jeff Horowitz, Chad Duplantis, and Jennifer Bell discuss current events, new products and techniques, dental education, and organized dentistry in an unpretentious and welcoming format.
"Dentists in the Know is incredibly humbled to be recognized as Dental Influencers of the Year by DrBicuspid," Bell said. "What started as a COVID project between three friends has grown into an impactful community full of engaging interviews, honest information, and challenging discussions in a most lighthearted and fun atmosphere. We like to think of our platform as the happy hour event after the CE course is over, where the real learning begins with friends. It seems this message is really resonating with the dental community and DrBicuspid's audience specifically, because many are longing for an unpretentious and collaborative community amongst our peers. Thank you so much for the recognition, and we will continue to work hard to bring valuable content to our audience."
Runner-up: Dr. Mary Pham
2023 Cuspies Hygienist Influencer of the Year: Amber Lovatos, RDH
Amber Lovatos, RDH, is a clinician, educator, author, and podcaster, as well as the hygienist behind the popular Instagram handle @thelatinardh. Lovatos has used her Instagram profile to teach her 5,000+ followers basic dental Spanish. She also speaks to issues impacting the Latino dental community and Spanish-speaking patients.
"Being awarded the Hygienist Influencer of the Year is a great honor and a recognition of the hard work and dedication I put into creating valuable content for the dental community," Lovatos said. "It means that my efforts to educate and empower dental professionals to communicate effectively with Spanish-speaking patients has resonated with the DrBiscupid audience and has made a meaningful impact on their practice. I am grateful for the opportunity to continue sharing my knowledge and helping improve the quality of care for all patients."
Runner-up: Britt Glauz, RDH
2023 Cuspies Best New Imaging Product: Trios 5 Wireless intraoral scanner, 3Shape
Last September, 3Shape rolled out the new version of its Trios 5 Wireless intraoral scanner that includes more than 50 changes to improve its ease of use, design, and infection control capabilities.
Scanner features include a more compact build and thin single-use sleeves to cover the body and minimize the risk of cross-contamination. The scanner also comes with ScanAssist intelligent alignment technology, an LED light, and haptic feedback to guide dental professionals during the scanning process.
"3Shape is very honored to receive the 2023 Cuspies award for Best New Imaging Product," said Jakob Just-Bomholt, CEO of 3Shape. "We spent several years perfecting the technology behind the game-changing Trios 5 and reshaping it to fit into a more compact and hygienic design. Trios 5's ease of use, coupled with our 3Shape Unite platform and Trios Share technology that enables you to scan and plan on every PC in the practice, is making it so much simpler for dentists to better care for their patients, drive practice growth, and work with treatment partners."
Runner-up: Primescan Connect intraoral scanner, Dentsply Sirona
Cuspies 2023 Best New Hygiene Product: Dragonfly powered loupe, Orascoptic
Orascoptic's Dragonfly loupe integrates the company's signature magnification with a built-in, battery-powered headlight. The headlight is designed to reduce pressure on the nose bridge. It also hides wires and cables by placing the headlight batteries and electronics within the frame.
"Orascoptic thanks the DrBicuspid audience for voting Dragonfly the Best New Hygiene Product," a representative from the company said. "Dragonfly is the industry's only powered loupe that seamlessly combines Orascoptic's industry-leading optics and award-winning headlight into a single, lightweight product."
Runner-up: Dental Pain Eraser, Young Innovations and Synapse Dental
Cuspies 2023 Best New Restorative Product: UltraTemp Rez II temporary resin cement, Ultradent
Ultradent debuted its new UltraTemp Rez II temporary dental cement last April. Designed for temporaries, the cement was developed to last two to four weeks. It comes in a dual-barrel syringe with mixing tips for easy delivery for temporary crowns, bridges, inlays, onlays, and small restorations. The noneugenol formula is also radiopaque and fluoresces under a black light.
"Ultradent is honored to be included among the distinguished products and companies represented in the 2023 Cuspies," said Karen Phillips, Ultradent's vice president of sales and marketing. "Having UltraTemp Rez II recognized as the Best New Restorative Product highlights the accomplishments of so many Ultradent team members -- award-winning products like this wouldn't be possible without the efforts of many incredible people. We send our collective gratitude to DrBicuspid and all who have incorporated UltraTemp Rez II into their offices."
Runner-up: Retraction Paste, Voco
Cuspies 2023 Best New Dental Software: AirPay, Smylen
Dentist Dr. Derek Giddon founded AirPay to automate the tedious task of verifying patient benefits and calculating patient costs prior to their visit. The platform aggregates multiple eligibility data sources into a single product with comprehensive payer connectivity. In the short time since its launch, AirPay has been adopted by hundreds of practices, dental service organizations (DSOs), and third-party billing companies.
"AirPay is honored to be selected by DrBicuspid as the Best New Dental Software for 2023," Giddon said. "Our mission is to untangle the complexities of dental insurance so that patients can access care and dental teams can do their jobs with less friction. It is incredibly rewarding to see how AirPay has already made such a large impact on so many understaffed dental practices around the country. We've got a lot more in store for 2023, and this award is the perfect way to kick off the year."
Runner-up: Invisalign Virtual Care AI, Align Technology
Cuspies 2023 Best New Consumer Product: iO10 smart toothbrush, Oral-B
At the 2022 Consumer Electronics Show, Oral-B added a new smart toothbrush to its iO product line. The iO10 with iOSense updates the company's premium rechargeable electric toothbrush with new oral health coaching features, including live coaching on brushing time, pressure, and coverage from the iOSense Charger. The charger then syncs with a phone for even more brushing habit insights.
"Thank you for voting Oral-B iO for the 2023 Cuspies award as Best New Consumer Product!" a representative from Oral-B said. "With Oral-B iO, transform your patients gum health at home."
Runner-up: Sonicare Cordless Power Flosser, Philips
2023 Cuspies Most Significant News Event in Dentistry: Burnout among dental professionals soars post-pandemic
One topic clearly on the minds of DrBicuspid readers is burnout. Readers may recall the harrowing mental health statistics listed in roughly one dozen articles on the topic in 2022.
More clinicians than ever before are grappling with the effects of suicide and detailing how the COVID-19 pandemic's mental health aftershocks have been worse for dental professionals than the general population. A CareQuest Institute for Oral Health survey reported that 71% of oral health providers reported an increase in feelings of burnout since the start of the COVID-19 pandemic.
Runner-up: U.S. dentists continue to grow younger, more diverse
Cuspies 2023 Scientific Paper of the Year: US dental health care works' mental health during the COVID-19 pandemic
US dental health care workers' mental health during the COVID-19 pandemic. Eldridge L et al, Journal of the American Dental Association and the Journal of Dental Hygiene, August 1, 2022. Learn more about this study.
This groundbreaking study was the first U.S. survey to analyze the long-term mental health of dental professionals during the COVID-19 pandemic. The findings showed that dentists and hygienists frequently reported poor mental health during peaks of COVID-19 transmission.
"An ongoing collaboration between the American Dental Association and the American Association of Dental Hygienists, along with researchers within the ADA Science and Research Institute, made the research highlighted in this Cuspies award-winning publication possible," the researchers said. "Dental care professionals were in the eye of the storm during the pandemic. With being responsible for providing patient care, maintaining personal safety, balancing competing demands of work and family care for themselves and their co-workers, all within overarching concerns of life during a pandemic, understanding how dentists and dental hygienists fared in terms of their mental health was of interest."
Runner-up: Erosive effect of beverages on surface hardness and ultra-structure of deciduous teeth enamel. Pediatric Dental Journal, September 6, 2022. Learn more about this study.
Cuspies 2023 Hottest Dental Procedure: Clear aligners for airway improvements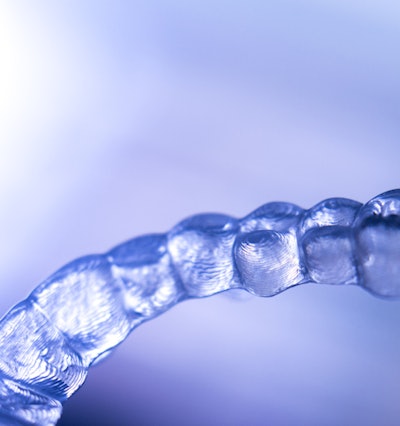 At the same time that clear aligners continue to gain popularity at dental offices, a growing contingent of dentists are providing sleep-related services at their practices, including screening for sleep-disordered breathing and making oral appliances designed for patients with obstructive sleep apnea.
This burgeoning trend has led to the introduction of clear aligners specifically designed for use with airway management therapies and orthodontic interventions designed to correct orofacial features that contribute to sleep-disordered breathing. With more people talking about sleep dentistry and airway management, it's likely this dental trend will continue to stay hot for a while.
Runner-up: Robot-assisted dental surgery