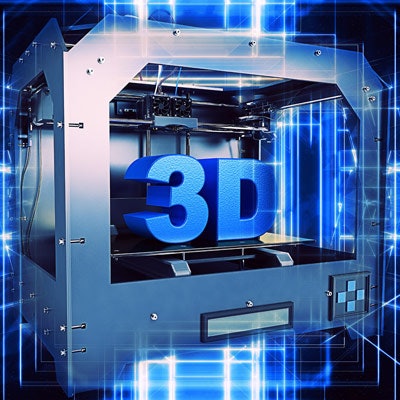 When the COVID-19 pandemic dealt the dental industry a critical blow to its business, many dentists turned to their technology to stay productive and help their colleagues who saw their personal protective equipment (PPE) supplies dwindling.
That technology is centered around 3D printing and the combination of computers and the creativity of the human mind. It's also a technology that is expected to see a rapid amount of growth in the medical sector (including dentistry) between now and 2025.
It is used in dentistry to produce aligners, surgical guides, digital dentures, night guards, bite guards, and more, and plenty of dentists have turned their 3D printers into face-mask production units in recent days. Stories of dentists donating their time and resources from Arizona to Georgia have emerged, as have online templates for dentists to use and Facebook groups for dentists to come together to talk about how to use the technology to help healthcare workers.
It was in the Facebook group Fired by Corona - Solutions by Dentists that I first encountered Matthew Calkins, DDS, a dentist out of Glendive, MT, located a little less than 40 miles from the North Dakota border. Montana is, of course, the home of the "Montana mask," which has become one of the well-known versions of a 3D-printed mask. The mask was created in Billings, approximately 220 miles from Glendive.
The video below, posted by Dr. Calkins on Facebook, is an example of how dentists are talking to each other about 3D technology and helping each other get better at their craft during the pandemic.
Dr. Calkins has been working with 3D printing for roughly a year and a half, producing aligners and surgical guides. He believes the technology has affected his patients and his area greatly.
"Glendive is a very rural community," Dr. Calkins said. "There are no specialists within three hours of the area, so it lends itself to getting good at root canals, placing your own implants, and learning anything you can. There are no orthodontists in town, so it's made a lot of sense for me to bring extra services to my area."
Knowing that the fit of the mask is critical to its success in protecting the practitioner from infection, Dr. Calkins told me that he has been working with a flexible kind of Montana mask using the same material that mouth guards are made from. He has been taking masks to the local hospital and doing an N95 fit test to make sure they are keeping healthcare workers as safe as possible.
"We've already delivered about 20 or so to our local hospital," Dr. Calkins said. "We can cut level 3 masks into six or nine pieces, and then you're able to stretch that one mask to go even further."
Ullas Kapoor, DMD, owns two dental practices in the Canadian province of Saskatchewan. He purchased a 3D printer in December because he is looking to move his practice toward an even greater digital workflow.
"I've been trying to do more in-house appliances with a 3D printer," Dr. Kapoor said. "Through the Kois Center, they have set up an online hub where you send the scan to them and the appliance is sent back to you in 24 hours, so you basically print it out the next day. It's really sped up the workflow, rather than waiting for a lab for two weeks to deliver it."
Dr. Kapoor has been following many of the online 3D forums to see how he might be able to use his technology to help. He is printing his first set of 3D material designs that are housed behind the ears and attached to masks to help relieve some of the pressure experienced by healthcare workers continually wearing their masks. He will also use his 3D printer to manufacture face shields this week.
"Because of how tight the masks are fitting, it's causing a lot of cuts and a lot of strain for the healthcare workers," Dr. Kapoor explained. "I've seen several designs posted, including one that on a single build you can print 30 at once and another one could be 48."
Why do it when finances are already tight, and there is no reimbursement for your time or materials?
"I think we have to do whatever we can right now to help the healthcare workers in need," Dr. Kapoor said.
Speaking of reimbursement, dental insurance expert Teresa Duncan said the coding for insurance and reimbursement involving 3D printing in dentistry is evolving as well.
"No codes currently exist for this," Duncan said. "However, the codes have been evolving over the years, and including different materials for crowns/bridges, implants, and removal prosthetics. This will most likely include 3D at-home printing materials.
"The American Medical Association put codes out last July for 3D printing for devices, but there's currently not much data other than anecdotal on what the reimbursement trend is," she added.
So, is this a tipping point for 3D printing in dentistry? Will it become more common in practices when dentistry returns after the pandemic?
"I think it depends on the mindset of the individual," Dr. Kapoor said. "There are people who are more progressive who will see the value in it, while those who are set in their ways may not."
"I think 3D printers are just great," he continued. "The potential they have allows you to do so much. I think we're at the early stages where there is just so much that will happen with them in the next couple of years and will allow us to do so much more. It is just going to get faster and more streamlined. It's really an exciting time."
Dr. Calkins agrees.
"I think the technology is amazing," he said. "It's an amazing day that we live in and how we can come together to help each other out. As we come together, we are able to do a lot of good with this technology and get through this situation together."
The comments and observations expressed herein do not necessarily reflect the opinions of DrBicuspid.com, nor should they be construed as an endorsement or admonishment of any particular idea, vendor, or organization.