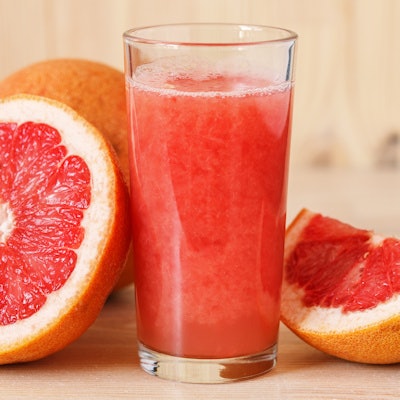 Dental Dose is a twice-monthly video series featuring pharmacologist Tom Viola, RPh. In each episode, Viola shares bite-sized pieces of dental pharmacology news, facts, and myths.
On a hot summer day, you may want to reach for a tall, cool glass of grapefruit juice. But if you take some medications, you should think twice about opting for the tangy drink. Pharmacologist Tom Viola explained why in the latest episode of Dental Dose.
Many medications rely on a specific type of liver pathway to get metabolized in a timely manner. But those liver enzymes are very susceptible to interactions, Viola said. What's one of the things that can slow down the liver enzyme system? You guessed it -- grapefruit juice.
"If you slow the enzyme system down by inhibiting the enzyme system, now other drugs that are metabolized by those same enzymes don't get metabolized as much," Viola said. "What does that mean? It means the medications last longer than they should."
Grapefruit juice is listed as a contraindication for a number of drugs, including statins. And when thinking about drug interactions, it can be easy for patients to forget about grapefruit juice.
In fact, Viola recently learned his 94-year-old father had been drinking a tall glass of grapefruit juice with his cholesterol medication. He only found out after his father complained about muscle aches.
"Imagine my shame," Viola joked. "The pharmacist! And my own dad succumbs to a drug-nutrient interaction or a drug-food interaction."
Viola's father initially substituted out his grapefruit juice for pomegranate juice -- yet another drink that can interfere with medication through the same liver enzyme system. What's Viola's advice for his dad and others?
"Drink orange juice like the rest of humanity," he said.
Watch the episode below to learn more about how grapefruit juice and pomegranate juice interact with the liver enzyme pathway. Also, stay tuned at the end for a special bonus feature with two additional drugs that can cause a similar reaction.