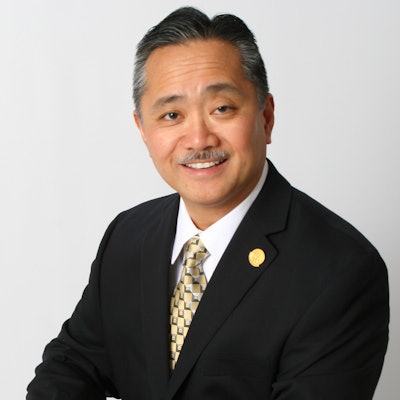 Serving in the military is a family affair for the Tan brood. Dr. Peter M. Tan, an oral and maxillofacial surgeon, spent 36 years in the U.S. Army before retiring as a colonel. His father was a veteran, his mother was a military nurse, and his sons currently serve.
In remembrance of Veterans Day, Tan reflected on how the military has shaped his entire family.
"My proudest moment isn't about me," Tan said, who previously held four command positions and was the drilling individual mobilization augmentee dental corps chief. "It was watching my sons pursue the military and giving both the oath of commissioning."
His eldest son, Maj. Peter Tan Jr., is with the Army Dental Corps and completed his surgical residency at Walter Reed National Military Medical Center.
"He's following in my footsteps," Tan said.
Though his youngest son, Ryan, is heading in a slightly different direction, he's just as proud. Ryan is serving as a military intelligence officer as a second lieutenant with the 641st Regional Support Group and completing his master's degree in global studies and international affairs.
Despite his humility, the elder Tan has much to be proud of. He was the highest-ranking reserve dental corps officer at the Office of the Surgeon General and the Pentagon. He was commander of the European Regional Dental Command, the Pacific Regional Dental Command, and the 7301st Medical Training Support Battalion. Also, he earned numerous awards, including the Meritorious Service Medal, the National Defense Service Medal with a bronze star, and the Legion of Merit.
More than 80 years of service
The Tan family has been connected to the military since World War II.
Tan's mother, Zephelina Tan, was a U.S. Army nurse in the Philippines when the southeast Asian country was a U.S. territory.
"When Pearl Harbor and the Philippines were attacked, my mother was in the trenches while the area was under Japanese occupation," he said.
Though his mother and others who served the U.S. were supposed to be considered veterans after the war, President Harry S. Truman rescinded that promise. It wasn't until President Barack Obama reversed that decision that Tan's mother was recognized as a veteran.
During a ceremony in 2017, Tan and his family accepted a Congressional Gold Medal on his mother's behalf. She passed away in 2000, Tan said.
"My mom passed away as a hero to me," Tan said. "She's the most decorated in the family."
Tan keeps his mother's medal in a case at his home.
At the start of World War II, Tan's father, Pedro Sumugat Tan, was drafted and served in the Army. Tan's uncle also served during the war.
Additionally, the grandfather and the uncle of Tan's wife survived the Bataan Death March. After the U.S. surrendered the Bataan Peninsula to Japan in 1942, tens of thousands of Filipino and American troops had to make a 65-mile trek to prison camps. His wife's grandfather and uncle, whose leg was amputated from the knee down, remained prisoners of war for several years.
"He did the march with a bleeding stump under captivity but survived," Tan said. "He went on to become a pathologist and a professor."
Military influence on Tan's private practice
In addition to his family's connection to the military, Tan believes serving has helped him become a better clinician.
The military knows the importance of oral health and recognizes that it is necessary to ensure service members are ready for active duty. Those who fail to maintain good oral hygiene and develop oral disease can become unfit for duty and affect a unit's readiness, he said.
The military's values and approach to health also helped him while working in private practice.
"Metrics in the military and the standards they follow needed to be complied with to be successful," Tan said. "A lot of this can be applied to private practice in assessing the way the office operates and how to work with staff and management. It was beneficial to have this in my background. The military has done as much for me as I have given to it."