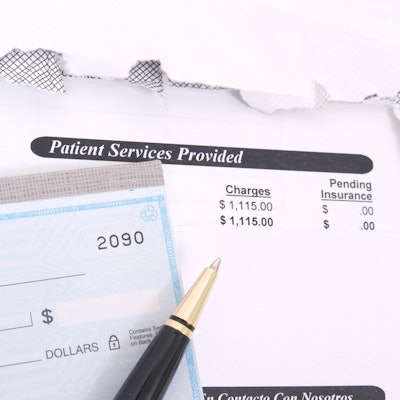 Preventive dentistry services provided more than just better health outcomes for Medicaid beneficiaries in New York, according to a study published on April 21 in the Journal of Dental Research. Participants who took advantage of preventive dental care also saved the state Medicaid program money.
A team of New York-based authors looked at data from the state Medicaid program, including emergency department use, inpatient admissions, and costs for both pharmacy and healthcare services. People who used preventive dental services had generally lower healthcare costs and improved health outcomes -- and those benefits kept climbing with each additional preventive visit.
"The aim of this study was to determine if preventive dental care was associated with improved health outcomes in a publicly insured population," wrote the authors, led by Dr. Ira Lamster, a professor of health policy and management and dean of the Columbia University College of Dental Medicine.
Previous research has suggested that preventive dental care and gum treatments can improve health and reduce costs -- something the authors of the study hoped to better understand.
The study included New York Medicaid fee-for-service claims and Medicaid managed care encounter data from July 1, 2012, through June 30, 2015. The focus was on people between the ages of 40 and 62 who were enrolled in Medicaid during this time period.
The authors divided eligible beneficiaries into two groups: people who used any type of dental services in the first two years of the study time period and people who did not use dental services in that time frame. They then compared the types and costs of medical services in the last year of the study period.
Of the 518,689 people in the study, only slightly more than half opted to undergo at least one dental service in the first two years analyzed. The findings shed light on the importance of preventive dental visits.
Patients with at least one preventive dental visit had lower rates of emergency department visits, hospital inpatient admissions, and pharmacy needs compared to those with no dental services. Their cost of treatment for these services was also lower, sometimes by hundreds of dollars per member.
Difference in average cost per member for people with a preventive dental visit vs. no dental service use
Any preventive dental care
Preventive care without extraction or endodontic treatment
Preventive care with extraction or endodontic treatment
Emergency department cost
-$17.86
-$34.08
+$19.36
Inpatient admission cost
-$564.62
-$737.30
-$168.42
Total healthcare cost
-$796.94
-$1,503.12
+$825.69
Having multiple preventive dental visits in the initial two-year time frame also netted its own benefits for enrollees. Each additional visit had a 3% reduction in risk for an emergency department visit and a 9% reduction in risk for inpatient hospital admission. Furthermore, additional preventive visits significantly reduced all average Medicaid costs.
"The findings reported here suggest the possibility of both improved health care outcomes and significant savings associated with the provision of dental services to a publicly insured population with heavy systemic disease burden," the authors wrote.
While the benefits of preventive dental care were obvious, the findings didn't carry through to patients who underwent an extraction or endodontic treatment but not preventive care. These patients had a higher risk for emergency department visits and inpatient admissions as well as significantly higher treatment costs.
Finally, the overall disease burden was high in the study population. Nearly two-thirds of beneficiaries had a diagnosis of at least one chronic disease. About 30% had also been diagnosed with a serious mental illness and 15% had a substance use disorder.
"Considering the morbidity and mortality associated with chronic diseases, integration of dental care into new models of care for persons with a heavy burden of disease should be considered," the authors wrote.
While the study was not designed to determine causation, the findings support the hypothesis that preventive dental care can improve gum health, which in turn may reduce medical utilization and costs, Lamster and colleagues noted. They hope future studies investigate why the benefits carried through for preventive dental care but not for extraction or endodontic therapy.
"These findings are intriguing and should generate further investigation into these associations," they concluded.