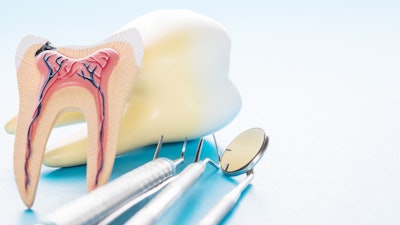 Human digested dentin matrix extract (DDME) may be used as a biomaterial for dentin regeneration, making it a possible option for vital pulp therapy like pulpotomy, according to an animal study published on May 5 in the Journal of Endodontics.
Additionally, DDME, which was made using controlled enzymatic digestion under acidic conditions, appeared to show superior biocompatibility with human dental pulp cells and potential in inducing the formation of teeth.
"DDME demonstrated promising performance as a potential direct pulp capping agent in an experimental rat model with coronal pulpotomy," wrote the authors, led by Dr. Yin Tang of the University of Southern California, Los Angeles Herman Ostrow School of Dentistry (J Endod, May 5, 2023).
A new type of pulp-capping agent
For vital pulp therapy, like a pulpotomy, to be successful, dentin must regenerate, or reparative dentin must form, underneath capping materials. However, the type of material placed on the exposed dental pulp tissue remains a major concern.
Currently, commercial bioactive materials are applied often as dental pulp-capping agents for vital pulp therapy because they have shown promise in generating reparative dentin bridges. However, these dental pulp-capping agents are dissoluble and remain stable for long-term observation after solidification. Unfortunately, the material in the pulp chamber cannot be degraded and replaced by new dentin or dental pulp tissue when these pulp-capping agents are placed at the level of the canal orifice.
To explore another potential capping agent for vital pulp therapy, the researchers fabricated a new dentin matrix material from human permanent teeth that were freshly extracted for orthodontic reasons. Briefly, hydroxyapatite was resolved to release the protein in the dentin. Then, the proteins were degraded into polypeptides. All organic and nonorganic components were collected and converted into powder. The powder was then implanted in rats' teeth. About eight weeks after the procedure, the teeth were collected and analyzed, according to the study.
The DDME's performance as a pulp-capping agent was evaluated in an in-situ rat model, and messenger ribonucleic acid (mRNA) sequencing verified the molecular mechanism, according to the authors. Upon analysis of the animals' teeth, dentinlike tissue could be seen in the space previously occupied by the DDME. Not only was there no inflammation in the dental pulp tissue below the DDME, but its histological structure was almost unchanged, the study's authors wrote.
The results of the in vitro experiments revealed that the human dentin material exhibited biocompatibility with the dental pulp cells and prompted the odontogenic differentiation of progenitor cells derived from dental pulp. Additionally, DDME facilitated the expression of odontogenesis- or osteogenesis-associated proteins in the dental pulp cells, the authors wrote.
Unlike existing commercial pulp-capping agents, human dentin matrix extract seems to be absorbable and can be replaced by newly formed dentin, they wrote. However, the study had multiple limitations, including that DDME was used in animals with healthy pulp. Therefore, the effectiveness of DDME on inflamed pulp remains unknown, the authors wrote.
More to learn
Though the feasibility of DDME as a capping agent to regenerate dentin tissue was proven preliminarily in animals, more studies should be carried out in humans, they wrote.
"(Nevertheless, this study) demonstrated the applicative potential of DDME extracted from natural human dentin for dentin regeneration, which may serve as a novel strategy for treating teeth with partial pulp inflammation," Tang and colleagues wrote.