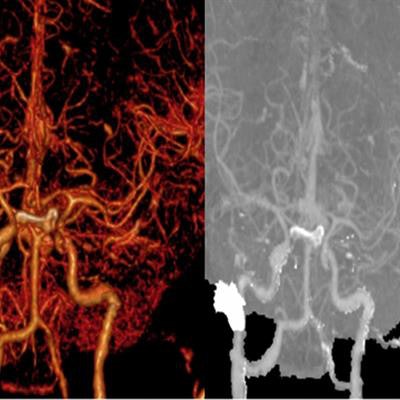 Imaging helped diagnose a COVID-19-positive man with cavernous sinus thrombosis (CST), according to a case report published on February 26 in the Indian Journal of Otolaryngology and Head & Neck Surgery. The condition may have resulted from his teeth being pulled; however, it could also have been caused by the novel coronavirus, clinicians found.
Though the man died three days after his diagnosis, the cause of CST remained unclear. An infection related to the tooth extraction likely led to the blood clot in his sinuses. However, it could not be ruled out that COVID-19, which the man had for a second time, may have played a role. This is believed to be the first case of its kind, the group wrote.
"Our case provides a diagnostic challenge and dilemma whether the cause of cavernous sinus thrombosis" was due to dental infection or COVID-19, wrote the authors, led by Dr. Kasim Aljanabi, an ear, nose, and throat specialist at Sohar Hospital in Oman.
Cavernous sinus thrombosis almost always led to death prior to the development of antibiotics. The condition's mortality rate is reduced to 30% when it is managed aggressively.
The condition can be caused by an infection of the paranasal sinuses or any of the anatomic structures drained by the cavernous sinus, including the oral cavity. However, only an estimated 7% of septic CST cases originate from dental procedures. There also have been increasing reports of cerebrovenous thrombosis as a complication of COVID-19.
A 52-year-old man
The patient was healthy with no chronic illnesses, but he did have a mild case of COVID-19 three months prior to visiting the emergency department. He presented with progressive facial swelling and reduced and double vision for three days.
A week before visiting the emergency room, the man's left and right upper first molars were pulled. He experienced no complications from the dental work until the left side of his face began swelling. Eventually, his entire face was swollen, his eyes bulged, and he had trouble seeing. The man had no respiratory symptoms, but he did have a high fever.
An exam revealed restricted eye mobility at all gazes, with no perception of light by the left eye and a fixed and dilated pupil. The right pupil had a sluggish reaction to light. The patient was unable to open his mouth fully, but there was no local infection, and the hard and soft palates were normal other than soft-palate edema. A blood test showed he was positive for COVID-19, with an elevated white blood cell count and C-reactive protein level above 300 mg/L, the authors wrote.
The patient was diagnosed with cavernous sinus thrombosis by a multidisciplinary team. He was having increased difficulty breathing due to significant soft-palate and upper airway edema, and he had to be intubated within 24 hours of admission.
Contrast-enhanced computed tomography (CT) scans and cerebral CT angiography confirmed the diagnosis, revealing poor enhancement of both cavernous sinuses denoting acute thrombosis. A nasal endoscopic exam showed nothing abnormal, and a histopathological exam showed no signs of invasive fungal infection, according to the authors.
Based on the clinical and imaging evidence, the man was treated with high-dose triple-antibiotic therapy, heparin, and steroids for CST secondary to dental extraction. Unfortunately, his condition deteriorated quickly, and he died within 72 hours.
In this case, the spread of infection likely originated in the pterygoid plexus and traveled to the inferior ophthalmic vein until it reached the cavernous sinus. Because the man had no local dental infection or collection at the site of his tooth extractions, the infection probably occurred when the pterygoid plexus became contaminated by a needle that was incorrectly inserted during the patient's posterior superior alveolar nerve block.
However, COVID-19 could not be dismissed as a contributing factor, as there have been reports of its potential to cause abnormal blood clotting, according to the authors.
"Heightened awareness of this atypical but potentially treatable complication of the COVID-19 disease spectrum is encouraged," the group concluded.