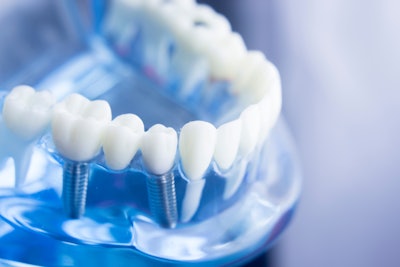 RevBio has been given approval from the U.S. Food and Drug Administration (FDA) to start a 20-patient trial to study the safety and efficacy of its bone adhesive biomaterial, Tetranite.
The clinical trial will explore a more rapidly replaced, pH-modified porous formulation of the biomaterial, which aims to immediately stabilize dental implants following tooth extractions.
This new formulation has shown evidence of a more biologically active bone substitution. While not osteoinductive (i.e., promoting bone to grow on the surface), this U.S. patent-pending version of Tetranite has shown characteristics which may be described as osteopromotive -- a material that promotes the de novo formation of bone.
The clinical trial will be conducted by Dr. Paul Fugazzotto, DDS, a periodontist in Massachusetts, and Dr. Kanyon Keeney, an oral and maxillofacial surgeon in Virginia.