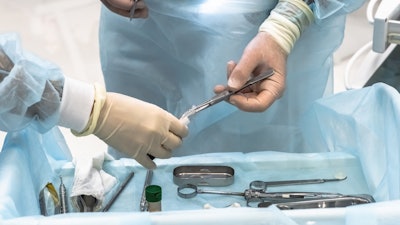 Bone graft materials infected with tuberculosis (TB) that were used in three dozen dental and medical procedures have led to a second patient's death, triggering a U.S. legislator who has had several bone grafts to call for stricter bone tissue implantation regulations.
Of the 36 people who received tainted bone grafts from Aziyo Biologics, five patients have become infected with TB, including two who died, according to an August 11 update from the U.S. Centers for Disease Control and Prevention (CDC). On July 13, the Silver Springs, MD-based Aziyo voluntarily recalled its bone graft products --- ViBone Moldable or alloOss Plus (lot No. TDS222820) -- after it learned of postsurgical TB infections in two patients after they were treated with viable bone matrix product from a single donor.
The death toll rose after a Michigan woman died on August 10 after spending a month in the hospital with a severe postsurgical TB infection following a procedure in which she received a bone repair product from Aziyo, according to a letter dated August 17 from U.S. Rep. Debbie Dingell (R-MI) to CDC Director Dr. Mandy Cohen and the U.S. Food and Drug Administration (FDA) Commissioner Dr. Robert Califf. Both agencies are investigating the outbreak.
"This tuberculosis outbreak linked to contaminated bone graft material does two things," Dingell, who admitted to receiving several bone grafts during the last couple years, said in a press release dated August 17. "First, it demonstrates the urgent need for stronger safety standards to prevent incidences like this from happening again, and second, it serves as a frightening wake-up call for all of us about what more needs to be done to educate patients about potential risks and the need to pay attention."
In addition to calling for stricter controls, Dingell is deeply concerned that Aziyo is dealing with TB-contaminated bone graft products for a second time. In 2021, Aziyo recalled another bone graft product that was linked to a large TB outbreak that affected 87 people and killed eight patients.
"It is unacceptable another outbreak of this kind to occur at all -- let alone another outbreak from the same company -- due to TB-contaminated materials," Dingell said in the release.
Despite the FDA's requirements, which were effective in May 2005, that include steps to ensure donors aren't infected with diseases that could be transmitted to recipients, "it is clear not enough is being done to regulate bone tissue implantation," she said in the release.
In closing, Dingell posed several questions, including how the FDA determines tissue donor eligibility and whether TB-related risk factors are considered during this assessment, what steps have been taken to prevent implantation of contaminated bone tissue since the 2021 outbreak, and whether there are plans to mandate testing for TB in tissue products.
In July, the CDC warned hospitals and dental offices to identify employees who possibly were exposed to the potentially deadly bacterial infection, which affects the lungs and spreads through an infected person's respiratory droplets, during patient care.
Between February 27 and June 20, shipments of Aziyo bone grafts were sent to 13 hospitals and dental offices in California, Louisiana, Michigan, New York, Oregon, Texas, and Virginia. All involved healthcare providers and states have been notified, and all unused units of the products, which have been made from human tissue, have been removed from inventory and will not be used.
When Aziyo announced the recall, it stated that the samples from the tainted bone grafts had tested negative for Mycobacterium tuberculosis. The testing was done by an independent laboratory, which used a nucleic acid test that is designed to specifically detect the organism that causes TB, according to Aziyo.