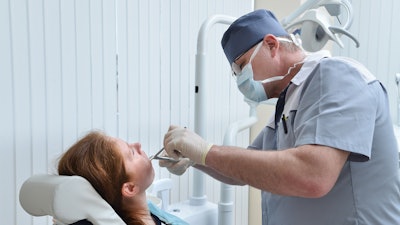 Photobiomodulation (PBM) light therapy may improve postoperative pain and wound healing after tooth extractions, according to a scoping review published on May 18 in the Journal of the American Dental Association.
Though the amount of time spent delivering the therapy varied by type of device and wavelength, PBM was linked to no adverse events. However, more studies need to be conducted before PBM can be integrated into clinical practice, the authors wrote.
"There is future potential to integrate PBM after dental extraction therapy to improve postoperative pain and clinical wound healing," wrote the authors, led by Dr. Dennis Sourvanos of the school of dental medicine at the University of Pennsylvania in Philadelphia (JADA, May 18, 2023).
A complementary therapy to improve pain
Postsurgical dental extraction treatment must promote healing, prevent complications, and relieve pain. Due to the rising rates of opioid misuse, dental professionals are moving away from prescribing painkillers to patients who have had teeth extracted. Instead, clinicians have turned to alternatives like prescribing antibiotics, corticosteroids, and analgesics.
Although these medications are effective, they aren't suitable for all patients, including those with a history of medical compromise. Therefore, other options, like PBM light therapy, need to be explored, according to the review, the authors wrote.
PBM therapy is a nonthermal, nonionizing treatment of red and near-infrared light that can be used as an adjunctive therapy to decrease inflammation, provide pain relief, and promote wound healing. It can be applied safely by optimizing laser parameters that are calculated for the optical properties of soft tissues and alveolar bone, according to the review.
To measure the amount of time spent delivering PBM light therapy to reduce postoperative pain and speed wound healing after tooth extractions, researchers conducted a detailed review of studies from January 1, 1970, to June 1, 2022. The search resulted in the analysis of 22 studies. Of these studies, 16 were at low risk of bias, four were at moderate risk of bias, and two were at a high risk of bias, the authors wrote.
When using light laser therapy following a tooth extraction procedure, it was determined that the time spent delivering PBM light therapy ranged between 17.1 and 900 seconds per application. The wavelengths used ranged between 550 nm and 1,064 nm. Wound healing was reported in six studies, with treatment times ranging from 30 to 120 seconds and wavelengths spanning 660 nm to 808 nm, they wrote.
The review had several limitations, including the variation in the length of time PBM light therapy was delivered and the range of wavelengths. Further, due to the different characteristics of each type of PBM device and wavelength, the number of verified PBM protocols for improved wound healing and pain is limited in published research. Significant efforts are required to systematize PBM therapy, the authors wrote.
First, more research
Future studies should explore the collective amount of time spent delivering light therapy with specific irradiation parameters, because it will allow a deeper understanding of the behavioral features specific to every device and wavelength, they wrote.
"Delivering PBM light after extraction can influence pain reduction and clinical wound healing," Sourvanos and colleagues concluded.