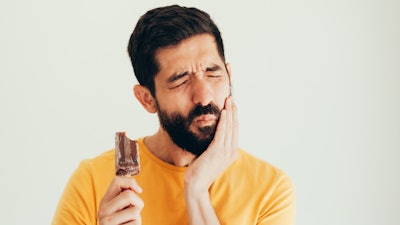 Older adults experienced a nearly 60% reduction in dentine hypersensitivity when silver diamine fluoride (SDF) was applied to the root surfaces of their teeth. The randomized clinical trial was published on July 14 in the Journal of Dentistry.
It is believed to be the first clinical trial investigating the short- and long-term desensitizing effect of SDF on hypersensitive teeth due to exposed root surfaces in older adults, the authors wrote.
"To date, there is no gold standard professionally applied desensitizing therapy in treating hypersensitivity," wrote the authors, led by Dr. Chun Hung Chu of the Prince Philip Dental Hospital in Hong Kong. "Evidence from this clinical trial could aid clinical practice and improve oral health in older adults."
Tooth hypersensitivity can cause pain that can negatively affect routine oral hygiene, jeopardizing one's gum health, limiting their food choices, and hurting a person's quality of life. Therefore, sensitivity should be addressed by implementing an appropriate measure followed by an intervention, like using a desensitizing agent.
These agents are simple, noninvasive, and inexpensive treatments that can be used in people like older adults who may have medical conditions, physical limitations, and financial hardships. However, until now, research on the effectiveness of these agents has been limited.
To evaluate the desensitizing effect of topically applied 38% SDF solution or 5% potassium nitrate on the exposed root surface of hypersensitive teeth in older adults, the teeth of 139 patients over the age of 65 underwent a blast of compressed cold air from a syringe and their sensitivity scores were recorded. Then, 38% SDF or 5% potassium nitrate was applied to their teeth at baseline, at four weeks, and at eight weeks. Patients underwent sensitivity testing after each application, according to the study.
The median percentage reduction in sensitivity score in the SDF group was 60%, and it was 50% in the potassium nitrate group, the authors wrote. Additionally, SDF reduced hypersensitivity continuously between each time point. However, potassium nitrate decreased dentine hypersensitivity up to the four-week follow-up with no significant reduction after that period, they wrote.
Nevertheless, the study had limitations. The results may be less generalizable since the study participants were older adults, they wrote. In the future, additional studies should be completed to explore further differences in various desensitizing agents in decreasing hypersensitivity to gain more insight into their clinical applications, Hung and colleagues wrote.
"SDF reduced dentine hypersensitivity continuously between each time point, from immediately after intervention up to the 8-week follow-up," they wrote.