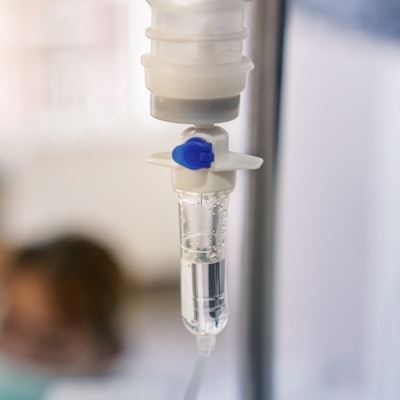 Some clinicians are urging dentists to use a new method to better monitor sedated dental patients after a 5-year-old boy didn't wake up for an hour following intravenous sedation. The correspondence was published March 16 in the Journal of Dental Sciences.
To combat the challenge of managing the accurate level of sedation of dental patients, dentists should consider using electroencephalographic density spectral array (DSA) monitoring. This monitoring system provides real-time information about a person's sedated state, the authors wrote.
"Through the use of electroencephalographic DSA, anesthesiologists can perform more accurate sedation, and dentists can also perform safer procedures under light or moderate sedation alone on patients," wrote the authors, led by Dr. Chung-Tzu Hsueh, PhD, of Cathay General Hospital's Department of Dentistry in Taipei, Taiwan (J Dent Sci, March 16, 2022).
Healthy 5-year-old with tooth decay
A 5-year-old boy was diagnosed with caries and pulpitis but could not receive treatment under anesthesia. Instead, the child underwent intravenous sedation with target control infusion (TCI) of propofol for the procedure, the authors wrote.
Prior to the procedure, the boy was given 15 mcg of oral midazolam. Then, clinicians placed an intravenous catheter and a high-flow nasal cannula with FiO2 1.0 (fraction of inspired oxygen) and at flow rate of 15 L/min, according to the correspondence.
Using the TCI pump, propofol infusion was administered, with the initial effect site concentration (CET) set at 3 mcg/ml. Despite the sedation, the boy occasionally was irritable. Therefore, the CET level was raised to 3.5 mcg/ml when stimulated during the procedure, and clinicians titrated CET to 4 mcg/ml for maintenance, the authors wrote.
During the procedure, the boy was unconscious with stable vital signs. About 10 minutes before the procedure was completed, the TCI pump was turned off. The procedure was completed within three hours without any complication.
For one hour postprocedure, the patient remained in deep sleep and couldn't wake up despite "painful stimulus." When the child woke up, his parents took him home, the authors wrote.
A better alternative?
Dental sedation is commonly used in pediatric dentistry due to many patients' inability to cooperate during treatment. However, inaccurate levels of sedation can cause complications, ranging from shallow breathing to death. Finding better ways to manage patients' levels of sedation are paramount, the authors wrote.
After reviewing existing studies, clinicians found that electroencephalographic DSA has been used in recent years to monitor sedated adults and children. Compared with processed electroencephalogram (EEG), such as a bispectral index monitor, DSA facilitates the interpretation of unprocessed EEG signals in patients under sedation in real time.
Processed EEG monitoring primarily discriminates between a patient's states of consciousness and unconsciousness. In contrast, the DSA detects faint changes in hypnosis depth, allowing clinicians to make instantaneous adjustments in patient sedation levels, they wrote.
Therefore, electroencephalographic DSA offers a good way to monitor patients under different types of sedations, including inhalation and intravenous anesthetics and oral sedatives, Hsueh and colleagues concluded.
"The technique of electroencephalographic DSA can be skilled by dentists and anesthesiologists," they wrote.