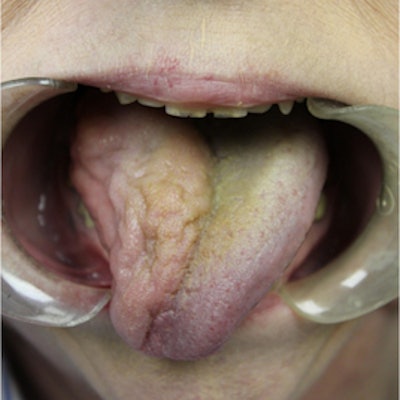 A 64-year-old woman in Tennessee experienced tongue paralysis, which affected her ability to talk, following the administration of local infiltration anesthesia for a dental restoration procedure. The case report was published on March 20 in Oral and Maxillofacial Surgery Cases.
Within a few months, the woman mostly recovered from the hypoglossal nerve injury. The hypoglossal nerve is the twelfth cranial nerve and is responsible for stimulating almost all intrinsic and extrinsic muscles of the tongue. Her injury could have been caused by mechanical compression during local infiltration, which compressed the nerves; a chemical injury related to the local anesthetics that were used; or direct injury by the needle, the authors surmised.
"While iatrogenic damage to the inferior alveolar nerve has been extensively described in the oral and maxillofacial surgery literature, a paucity of literature can be found related to 12th cranial nerve complications," wrote the authors, led by Dr. Christopher Scott of the department of oral and maxillofacial surgery at the University of Tennessee Medical Center in Knoxville, TN.
A 64-year-old woman with a carious tooth
The woman visited her general dentist to undergo a restoration under local anesthesia to treat a decayed tooth. Adequate anesthesia could not be obtained via the inferior alveolar nerve block. The clinician then administered local infiltration with 4% prilocaine and 4% articaine into the floor of her mouth.
Shortly after the procedure, the woman complained of slurred speech and rightward deviation of her tongue. She was referred to the oral and maxillofacial surgery department at the University of Tennessee Medical Center, Knoxville.
An exam revealed significant dysarthria, right-sided tongue atrophy, and rightward deviation. Her tongue showed deep hypoesthesia to pinprick, light touch, and pressure. A magnetic resonance imaging scan of her brain showed no signs of a cerebrovascular accident, space-occupying lesions, or other neurologic pathology, the authors wrote.
She was diagnosed with right-sided hypoglossal and lingual nerve injuries, which were caused by one of the following:
Neurotoxic effects of the prilocaine and articaine used during administration of the anesthetic
A pressure injury from compression of the nerves
Direct injury from the needle when infiltration was performed
The woman was referred to speech pathology for speech therapy exercises, speech strategy, and the use of Vital Stim neuromuscular electrical stimulation. She underwent follow-up exams every three months that included two-point discrimination, pinprick, light touch, pressure, and directional brush sensitivity.
After a few months of treatment, the woman's tongue weakness, range of motion, and sensation improved. Her slurred speech improved to 85% of the baseline, the authors wrote.
An injury with devastating effects
As a solely motor nerve, the hypoglossal nerve is involved intimately in speech and swallowing. Whether the cause is benign without injury, like a tooth extraction, or malignant, like a direct injury from trauma or neck dissection, dysarthria and dysphagia are two recognized sequelae with significant morbidity to a patient, they wrote.
Fortunately, most hypoglossal nerve injuries resolve without surgical intervention within 12 months of initial occurrence. Nevertheless, clinicians should formulate a complete differential diagnosis when hypoglossal nerve pathology is being investigated, they wrote.
"As the injury may occur from a wide range of conditions, including benign and malignant pathology, a complete medical history, clinical examination, and imaging is necessary," Scott and colleagues wrote.