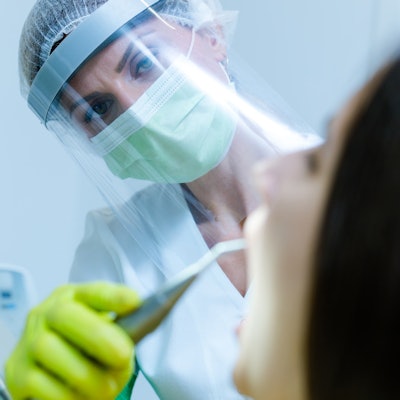 More than 80% of COVID-19 survivors had damage to the oral cavity or surrounding structures in a study published on March 3 in the Journal of Dental Research. Abnormal salivary gland dilation and dry mouth were the most common conditions identified in 122 formerly hospitalized patients.
Despite researchers extensively studying COVID-19's systematic effects, little is known about its long-term effect on the oral cavity. The new study showed COVID-19 survivors can experience oral manifestations of disease months after hospital discharge.
"Overall, this retrospective and prospective cohort study of COVID-19 survivors revealed that residual damage of the oral cavity persists in the vast majority of patients far beyond clinical recovery, and suggests that the oral cavity represents a preferential target for SARS-CoV-2 infection," wrote the authors, led by Dr. Enrico Gherlone, a professor of clinical dentistry at Vita-Salute San Raffaele University and director of the dentistry unit at the IRCCS San Raffaele Scientific Hospital in Milan.
The study included 122 adults who had been hospitalized for COVID-19 treatment at San Raffaele University Hospital between July 23 and September 7, 2020. A dentist performed a comprehensive extraoral and intraoral examination on the survivors about three months after discharge.
The most reported condition, salivary gland ectasia, was "unexpectedly common," in the COVID-19 survivors, the authors noted. Salivary gland ectasia affected 38% of the cohort and was more prevalent among patients who were older and had more severe markers of COVID-19.
Furthermore, one-quarter of patients experienced dry mouth, and 18% reported masticatory muscle weakness. Patients with dry mouth tended to be older and have diabetes or chronic obstructive pulmonary disease (COPD), while those with masticatory muscle weakness were younger in age.
Facial pain and nerve conditions were also common in the cohort, perhaps reflecting SARS-CoV-2's reported neurological effects. Survivor complaints included temporomandibular joint (TMJ) abnormalities (7%), facial tingling (3%), and trigeminal neuralgia (3%).
Other conditions observed in the cohort included white tongue, oral ulcers, and altered taste and smell. One patient experienced facial asymmetry.
"The oral cavity seems to be a privileged and accessible environment for the interaction of SARS-CoV-2 with target cells and with the mucosal immune system," the authors wrote, although they couldn't be sure the oral manifestations were the direct result of the virus.
For instance, patients with salivary gland ectasia had experienced a more severe course of COVID-19 with higher levels of inflammation. But they also had been given more antibiotics, which can disrupt the oral microbiome.
"It is more likely that oral involvement occurs as a consequence of the host inflammatory response, which is responsible for most morbidity and mortality in COVID-19," the authors wrote.
Regardless of the exact mechanisms, the findings help clarify the oral conditions that may be seen in COVID-19 survivors. While future research is still needed, dentists are well-positioned to lead research efforts on the link between SARS-CoV-2 and oral diseases, the authors noted.
"The dental team can thus contribute to improving the quality of prevention and treatment of COVID-19 and to increasing the scientific knowledge regarding this relatively new disease," authors wrote.