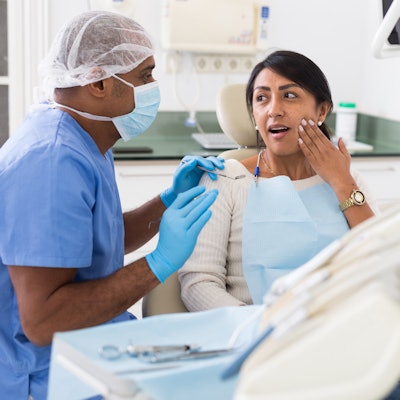 Approximately 1 in 10 survivors of severe COVID-19 may develop craniomandibular disorders (CMDs) within six months following prolonged intubation, according to a study recently published in the Journal of Stomatology, Oral and Maxillofacial Surgery.
Furthermore, bilateral molar loss, convex face, and higher levels of peak C-reactive protein (CRP), a protein found in the blood that indicates an increase in inflammation in the body, during intensive medical care were predictors of CMDs in these patients, the authors wrote.
"(Survivors of severe COVID-19 with these predictors) indicate CMD screening and/or referral to a CMD specialist, regardless of patients' age, gender, underlying CMDs, or previous dental checkups," wrote the authors, led by Dr. Poramate Pitak-Arnnop of the department of oral and craniomaxillofacial plastic surgery at the University of Giessen and Marburg in Germany (J Stomatol Oral Maxillofac Surg, July 7, 2022.)
Multiple predisposing or precipitating factors can lead to CMDs. These types of disorders may originate in the muscle tissue, or they may be related to a joint injury, occlusion, or comorbidities, such as autoimmune diseases.
Additionally, a temporomandibular joint (TMJ) injury is a critical risk factor for CMDs. Left untreated, CMDs can cause chronic facial pain, headache, jaw malfunctions, and deformities.
When a patient must be intubated, a clinician uses temporomandibular rotation-translation maneuvers to reach a person's maximal mouth opening. Sometimes, when excessive force is used, a patient's TMJ can be injured during intubation. Prolonged intubation with the TMJ in a stressed position can worsen the damage, the authors wrote.
To identify the predictors of CMDs in survivors of severe COVID-19 after prolonged intubation greater than or equal to one week, the paper's authors conducted a retrospective study that included 176 patients. Of those patients, 21 had CMDs and 155 did not have these conditions.
In bivariate analyses, statistically significant associations were found between CMDs and bilateral molar loss in at least one jaw, skeletal class II/convex face, and serum CRP during intensive care that was greater than or equal to 40 mg/L, they wrote.
Compared to those with no or only unilateral molar loss, patients with bilateral molar loss had 12.6 greater odds (95% confidence interval [CI], 3.9 to 41.1) for developing CMDs. Additionally, convex face subjects were at a 2.6-fold higher risk (95% CI, 1.2 to 5.9) of developing a CMD compared to those with a normal or concave profile. Finally, patients with peak CRP levels greater than or equal to 40 mg/L were 3.5 times more likely to have CMDs (95% CI, 1 to 12.1) than those with lower CRP levels, the authors wrote.
Screening about two to four survivors of severe COVID-19 who underwent prolonged intubation and had at least one of the predictors may result in one CMD event during the first six months after being mechanically ventilated, they wrote.
There are limitations to the study, including that its retrospective nature makes it difficult to control for bias and confounders, the authors stated. Further research should be conducted in multi-institutional settings with a larger cohort, they wrote.
"The benefit-risk analysis favors post-PI (prolonged intubation) CMD screening," Pitak-Arnnop and colleagues wrote.