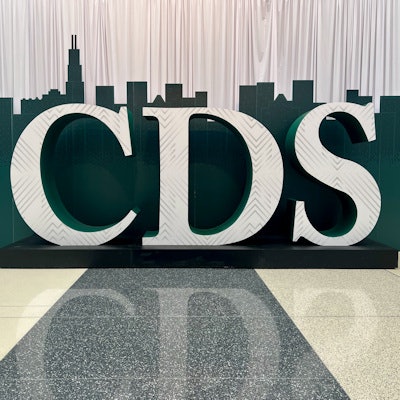 Achieving complete anesthesia of a patient's tooth that needs treatment when everything else in the mouth seems numb is the most common difficulty clinicians face, according to a presenter at the Chicago Dental Society Midwinter Meeting.
Knowing anatomical landmarks, including nerve pathways, as well as an understanding of multiple injection techniques, are necessary to overcoming this challenge, said Dr. Alan Budenz, a dentist from San Francisco.
"Because of the diversity of the details of human anatomy, we need to be diverse in our techniques for achieving successful, profound anesthesia," Budenz said.
Identifying anatomical landmarks
Effective and safe delivery of local anesthesia requires knowing anatomical landmarks. Even for a simple infiltration, palpation of the site prior to injection is essential, he noted.
Upon palpation, clinicians should ask themselves questions, such as the following:
Is there a bulk of bone there or a bony ledge?
Do I need to alter my angle of injection because of the shape or features of the jaw in the injection area?
Is the tissue space shallow or deep?
"Human anatomy is basically the same from one person to another, but the details are highly variable, and for achieving anesthesia, the details are everything," Budenz explained. "So, it's not just knowing the basic landmarks for each injection technique, it's also palpating and appreciating the subtle differences for each individual patient. We need to read the clues the landmarks provide us."
Unfortunately, imaging isn't the answer to getting a better view of a patient's anatomy for injections. Well, at least, not right now.
Conventional dental x-rays aren't very helpful, because they only offer 2D images. Cone-beam computed tomography could be very helpful, but it isn't practical due to the cost and the higher radiation exposure. However, nonionizing radiation imaging may be a practical reality for the future, Budenz remarked.
"This could be a real game-changer for making imaging useful for our anesthesia injections," he said.
Maxilla vs. mandible
In addition to knowing anatomy, it is essential to know the differences in handling injections in the maxilla and mandible.
First, it's much easier to solve challenges in the maxilla. Innervation to the maxillary teeth may come from any direction within the bone. Since the bone of the maxilla is relatively permeable, giving an infiltration injection near the apex of the needed tooth usually will resolve the problem with enough duration of anesthesia to complete the procedure, Budenz explained.
"Using articaine for this infiltration is especially quick, safe, and highly effective," he said.
When it comes to the mandible, which has a greater density of bone, it is best to anesthetize the needed nerves before entering the bone.
"This is where knowing the anatomy is essential," Budenz said. "Possible accessory innervation to mandibular teeth is found in the long buccal nerve, the mylohyoid nerve, and even in the great auricular and transverse cervical nerves coming up from the neck. So, where is the best site to inject for these possible accessory nerve pathways?"
Infiltration near the apex of the needed teeth may work, especially with the use of articaine, but the duration may not be adequate. Therefore, using the Gow-Gates technique makes the most sense, Budenz said.
The Gow-Gates is the highest technique, which means that the anesthetic is being deposited closest to the foramen ovale. This is important, because once the mandibular division of the trigeminal nerve exits the base of the skull through the foramen ovale, it starts to branch, giving off the main sensory branches to the teeth, but also branches that may carry accessory innervation by different routes to mandibular teeth, he explained.
"By dropping our anesthetic just lateral to the foramen ovale with the Gow-Gates technique, we have a far greater likelihood of anesthetizing all the nerve branches to the mandibular teeth with a single injection," Budenz said.
Like the Gow-Gates injection, the Vazirani-Akinosi mandibular division nerve block injection for mandibular anesthesia is given at higher levels than the conventional inferior alveolar nerve block injections. Typically, the Vazirani-Akinosi technique is administered about halfway up between a conventional inferior alveolar nerve block injection site and the Gow-Gates injection site.
"This specific technique is a closed-mouth technique that was devised to anesthetize the mandible on patients who could not open their mouth due to trauma or muscle trismus," Budenz said.
However, an accurate, reliable Gow-Gates injection cannot be administered to a patient who can't open his/her mouth very wide.
"Therefore, I need to know, and be able to accurately use, a different technique," he said.
Take precautions
To avoid complications, clinicians need to talk to their patients about their prior experiences with anesthesia. It is important to know whether they have had adverse reactions, unpleasant experiences, or trouble getting or staying numb.
Many of the problems that patients have experienced are due to their anxiety about getting a shot, so it's good to get that out in the open, he said. Then, Budenz discusses what he does to make injections as comfortable and effective as possible.
"When the patient trusts me, they relax, and the injection goes much smoother, and the anesthesia works much better," Budenz said. "Patient anxiety can make achieving adequate anesthesia very difficult, and, at times, even impossible."
Time to delay
If a patient reports an allergic reaction or has a suspected reaction due to an anesthetic injection, the dentist needs to get a full history of the circumstances. Also, the patient may need to be tested for anesthetic allergies before starting any procedures. In these cases, it is best to have the patient tested by an allergist using anesthetics drawn from dental cartridges that are used in that clinician's practice, he said.
Dental anesthetics are "cleaner" than medical anesthetics, Budenz said. Physicians draw anesthetic out of multidose vials that contain preservatives that can cause allergic reactions in patients, he explained.
"Dental cartridges are single use, [and] they do not contain most of these preservatives, so testing with our dental cartridges will give a more accurate picture of whether or not the patient is truly allergic to the anesthetics that we use in dentistry," Budenz said.
The takeaway
At times, every clinician has difficulties achieving profound anesthesia in patients. The question is not how to avoid this situation but how to handle it. Clinicians need to know and understand the uses and limitations of each available anesthetic agent, as well as the multiple techniques for delivering those agents, Budenz said.
"When your favorite technique that usually works fails you, what techniques can you comfortably fall back on?" he asked. "You need to know, and you need to be able to use multiple techniques accurately."