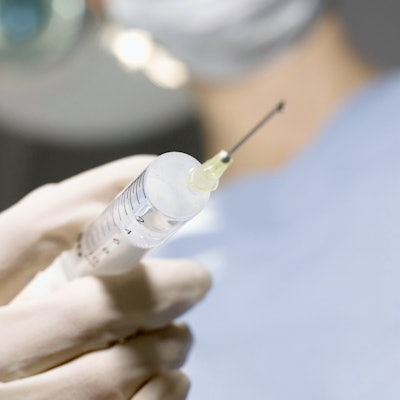 Buccal infiltration with 4% articaine may achieve a comparable anesthetic effect to inferior alveolar nerve block with 2% lidocaine when performing pulp therapy in kids' lower jaw molars, reports a review published on October 22 in the Journal of Evidence-Based Dental Practice.
Administering an inferior alveolar nerve block with lidocaine traditionally is recommended when clinicians are performing dental treatment on primary mandibular molars due to its low allergenic characteristics and greater potency at lower concentrations. However, buccal infiltration with articaine may be a better choice for children, since it is simpler to administer and less painful, the authors wrote.
"This indicates articaine BI (buccal infiltration) may be considered as an alternative option for LA (local anesthesia) to allow easier patient management," wrote the authors, led by Dr. Xiaoyan Zhou, MDS, PhD, of the University of Sydney in Australia.
When treating patients, especially children, pain management is critical. Infiltration and nerve blocks are the most commonly used techniques, and nerve block with lidocaine is considered the gold standard when treating primary mandibular molars.
Despite its recommended use, an inferior alveolar nerve block is a technical, sensitive procedure, and research has shown it is relatively more painful than infiltration during local anesthesia administration. Determining and using the method and agent that have the fewest disadvantages can help clinicians achieve the most successful outcomes in pediatric patients.
To compare the anesthetic effects of articaine and lidocaine, the authors reviewed the literature that spanned from January 1990 to December 2020. Of the 550 articles that were found, five articles that were published between 2016 and 2018 were analyzed.
Of the five articles, four reported significantly lower pain scores when using 4% articaine buccal infiltration compared to 2% lidocaine inferior alveolar nerve block. Only one study reported no significant difference between the two anesthesia methods, the authors wrote.
The review has limitations, including a lack of critical appraisal of the articles reviewed. Though the literature search was conducted to find relevant articles in multiple databases, including PubMed and Cochrane, a gray literature search was not completed, they wrote.
Buccal infiltration with 4% articaine may be an alternative option to inferior alveolar nerve block with 2% lidocaine, "however, further well-designed investigation in this field is warranted to provide high-quality evidence-based clinical recommendations," Zhou and colleagues wrote.