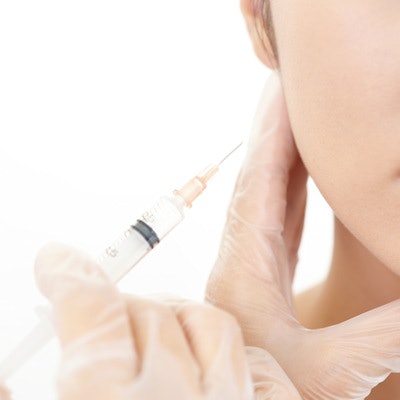 An injection of botulinum toxin A (BoNT), a neurotoxin marketed under the brand names Botox, Jeuveau, and Xeomin protein, weakened the myofascial pain of a 39-year-old woman with a nonodontogenic toothache, according to a case report recently published in Clinical Case Reports.
BoNT is produced by the bacterium Clostridium botulinum and temporarily paralyzes muscles. In this case, an injection of BoNT worked to treat a patient's nonodontogenic toothache pain, although there is no standard protocol for its use with this dental condition. Therefore, a person's functional limitations, goals, and expected outcomes must be assessed before undergoing any type of treatment.
"Injection of Botulinum toxin A at left masseter muscle reduced the toothache," wrote the authors, led by Dr. Yoshizo Matsuka, PhD, of the department of stomatognathic function and occlusal reconstruction, graduate school of biomedical sciences, Tokushima University in Tokushima, Japan (Clin Case Rep, February 23, 2022, Vol. 10: 2, e05494).
A 39-year-old woman with aching pain
After experiencing dull, aching pain in her lower right jaw, the woman in the case report visited a hospital dental clinic. The pain worsened when she chewed, and an exam revealed that there was no spontaneous pain. However, her lower left first molar tested positive for cold and percussion, the authors wrote.
Additionally, the patient had caries on tooth #19 that did not reach the pulp cavity and an inlay restoration in #18. When the inlay was removed, it relieved her symptoms. In addition, at tooth #18, she had a periodontal pocket that measured 4 mm and bled on probing, they wrote.
Two months later, the woman had spontaneous pain in tooth #19. This tooth showed a positive response to the electric pulp test, and though #19 underwent root canal treatment, her symptoms persisted. Also, tooth #18 had a positive cold sensitivity test. Her pain remained despite hypersensitivity treatment, according to the report.
Since the patient experienced pain during the cotton clenching test, an occlusal splint was made for her. However, her pain persisted.
At that point, the woman was referred to an orofacial pain clinic. An intraoral exam revealed tooth interference in lateral excursion movement. She underwent an x-ray as well as occlusal correction. Though clinicians observed that her bilateral masseter muscles were tender, there were abnormalities in her temporomandibular joints, the authors wrote.
When her masseter muscle was touched, the woman experienced pain, shoulder stiffness, and a tension-type headache. Her pain was a 30 out of 100 on the visual analog scale (VAS), a tool used to measure pain.
Botulinum toxin A treatment
Clinicians decided to give the woman a BoNT injection.
First, a clinician injected local anesthesia in the woman's left masseter muscle. Then, she was referred to the neurology department, where the muscle was injected with 50 units of BoNT with 2 ml of 0.9% saline. Electromyography guidance was used to give the injection, they wrote.
After the injection, her toothache was reduced to a 9 out of 100 on the VAS. However, the patient experienced mild facial asymmetry.
After four months, her pain decreased to 0 out of 100 on the VAS. Seven months later, the patient complained that her toothache returned, describing it as a 20 out of 100 on the VAS. However, the patient declined another BoNT shot because her tooth pain was tolerable, the authors wrote.
Talking to patients about botulinum toxin A
When diagnosing the origin of a toothache, clinicians must consider medical history, extraoral exams, and psychological conditions. If a patient has a toothache, but clinical and radiological exams reveal no pathologies, pain with a nonodontogenic origin should be explored. Muscle disorders, neuropathic or neurovascular pain, sinus and nasal mucosal problems, and other diseases can cause nonodontogenic toothaches.
In 1989, the U.S. Food and Drug Administration permitted the use of BoNT for the management of uncontrolled eye movements, including twitching and eyes that don't line up in the same direction. Over the years, the neurotoxin has been used to treat many other conditions, including myofascial and neuropathic pain, chronic migraines, and joint pain. In myofascial pain, BoNT reduces the frequency, intensity, and duration of recurrent episodes.
Although relatively safe and tolerable, there may be some downsides to using BoNT. Though adverse effects are uncommon and mild at small doses, some patients, including the woman in this case report, can experience negative symptoms. Therefore, clinicians must warn patients about potential side effects so they can make informed decisions about treatment, they wrote.
Nevertheless, the "direct injection of Botulinum toxin helped attenuate this nonodontogenic toothache of myofascial pain origin," Matsuka and colleagues concluded.