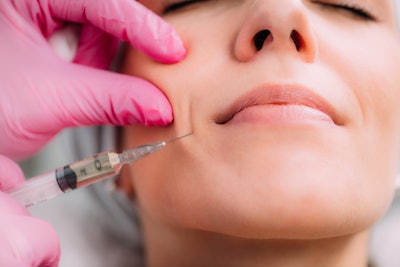 Two out of three cosmetic surgery injections in the U.K. are not administered by medical doctors, according to a recent report by University College London researchers. While medical doctors accounted for 32% of professionals administering cosmetic surgery injections, dentists were not far behind, representing 24% of the professionals surveyed.
Dentists weren't the only dental professionals to provide cosmetic injectable services. Dental nurses accounted for 8% of the professions represented, according to the findings. The finding fills a knowledge gap, with little known to date about who provides cosmetic injectable services, such as Botox and dermal fillers, noted first author David Zargaran, a fellow in the university's department of plastic surgery.
"There are well-documented, yet to date unaddressed challenges in the U.K. cosmetic injectables market. Without knowledge of the professional backgrounds of practitioners, we cannot adequately regulate the industry," he said, in a news release.
In the study, Zargaran and colleagues evaluated 3,000 websites to identify 1,224 independent clinics and 3,667 practitioners who were delivering cosmetic injections such as Botox.
Of the professions represented, 32% (1,163) were medical doctors, 13% were nurses, 24% were dentists, and 8% were dental nurses, according to the findings. Of the 1,163 medical doctors identified, 41% were on the specialist register and 19% were on the GP register. In addition, among the 27 specialties represented on the specialist register, plastic surgery was the largest group (37%) followed by dermatology (18%).
Ultimately, the range of backgrounds opens a broader question relating to competence and consent, the authors noted.
"One of the key challenges facing the government's licensing scheme is to ensure that practitioners granted a license possess the skills and experience required to safely administer their treatment to minimize risks to patients," Zargaran stated.
The researchers noted that the U.K. injectables market is predicted to reach a value of £11.7 billion (approximately $15.1 billion) by 2026, but to date is effectively unregulated. The U.K. government is preparing to update policy around injectables, with a public consultation on the industry due to begin in August 2023, the group noted.
The study was published July 3 in the Journal of Plastic, Reconstructive & Aesthetic Surgery.