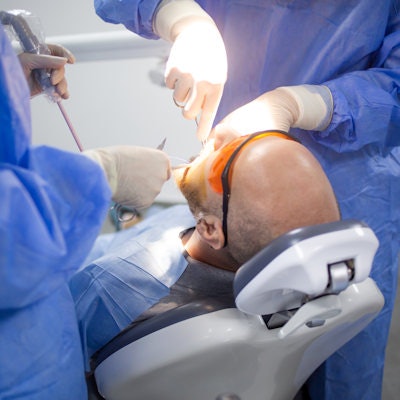 Patients with impacted lower third molars may experience less pain and swelling if the hormone melatonin is applied to their tooth sockets after surgical removal, according to a prospective, randomized clinical trial published recently in the Journal of Oral and Maxillofacial Surgery.
Though melatonin also may play a part in improving the maximum mouth opening, the bone healing activity of melatonin could not be detected in this study, the authors wrote.
"The results support the anti-inflammatory effect of melatonin in reducing the pain scale and swelling," wrote the authors, led by Shaimaa Mohsen Refahee, PhD, of Fayoum University in Egypt (J Oral Maxillofac Surg, January 24, 2023).
A new way to manage pain?
Melatonin, which is secreted by the pineal gland, has antioxidant and anti-inflammatory properties. In addition to inhibiting the production of reactive oxidants, it promotes osteoblast differentiation and bone formation, which may potentially limit problems like intrabony defects and bone loss associated with the surgical removal of impacted lower third molars.
Although research has explored the effects of systemic melatonin administration in dentistry, support for locally applying the hormone because of its anti-inflammatory, painkilling, and osteogenic purposes is limited.
To assess the effects of applying melatonin in the socket of an impacted mandibular third molar, researchers conducted a randomized, blinded study that included 38 patients with impacted mandibular molars. Half of the patients had 3 mg of melatonin mixed with 2 ml of hydroxyethyl cellulose gel 2% that was gently packed into the socket while the other half had a placebo of 2 ml of hydroxyethyl cellulose gel 2% placed in the socket, according to the study.
Cone-beam computed tomography scans were taken a day after surgery and six months later to measure bone density as a marker for osteogenic activity within the sockets. To evaluate bone healing activity, blood tests were used to measure osteoprotegerin levels immediately, four weeks, and six months after surgery, the authors wrote.
To assess anti-inflammatory effects, mouth opening, pain, and swelling were measured before surgery and then one, three, and seven days after surgery. Using a caliper, each patient's mouth opening was measured from the cutting edge of the maxillary central incisor to that of the mandibular central incisor. Pain was measured using the 10-point visual analog scale, and using measuring tape, the degree of swelling was assessed from the tragus to the corner of the mouth, they wrote.
There were statistically significant improvements in maximum mouth opening on day one (median = 38.33, standard deviation ± 1.20; p = .031), osteoprotegerin levels on week four (median = 1.9 [1.4 to 2.4], p = .02), and swelling on day 3 (median = 14.36, standard deviation ± 0.80; p = .003) in those who received melatonin compared to patients who received the placebo.
The generalized estimating equation pain scale, a statistical method that is a semiparametric regression technique, highlighted the statistically significant interactions of melatonin on days one, three, and seven. Melatonin reduced the pain score on the first day by -1.69 (95% confidence interval [CI] = -2.4, -0.99; p < .001) if all the other covariates remained constant. Likewise, it decreased the pain score by -2.16 (95% CI = -1.78, -0.77; p < .001) on the seventh day, the authors wrote.
More research still needed
The study had several shortcomings, including that a single dose of melatonin was applied to the tooth socket based on previous studies. Therefore, the minimal effective dose could not be ascertained because different doses were not used, they wrote.
Locally applying melatonin at the socket may be considered a replacement for anti-inflammatory drugs, which can result in systemic side effects. However, more research that focuses on the use of a slow-sustained melatonin carrier to maintain a constant melatonin dose across the healing period should be conducted, they added.
In addition to playing a role in improving the maximum mouth opening, the study reveals "the anti-inflammatory effect of melatonin by reducing pain and swelling," Refahee et al wrote.