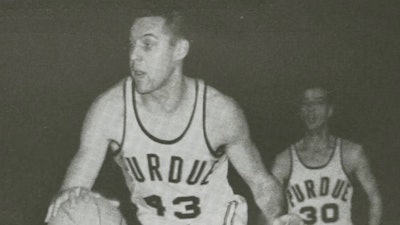 Dr. Terry Dischinger, a longtime orthodontist in Oregon and a former National Basketball Association (NBA) player who always gave to others, died at the age of 82 on October 10, according to a press release from the NBA.
Before becoming an orthodontist, Dischinger was a forward in the NBA for almost a decade and played his last season with the Portland Trail Blazers during the 1972-1973 season. Despite his 6-ft 7-in frame, he was known as a "gentle giant," according to the NBA.
Before being drafted in the NBA, he was named a consensus first-team All-American during his junior and senior seasons while attending Purdue University, where he studied. Dischinger earned a Bachelor of Science degree in chemical engineering. Also, he was part of the U.S. National Team that earned gold medal honors at the 1960 Olympics in Rome. The 1960 U.S. team was collectively inducted into the Naismith Memorial Basketball Hall of Fame in 2010, according to the release.
In 1962, he was drafted into the NBA by the Chicago Zephyrs, now known as the Washington Wizards. A year later, he was named Rookie of the Year after averaging 25.5 points, eight rebounds, and 3.1 assists. He was named an All-Star in each of his first three seasons before taking the 1965-66 and 1966-67 seasons off to enlist and serve in the U.S. Army.
In 1967, Dischinger returned to the NBA, playing the next five seasons in Detroit before finishing his career in Portland, OR. After his NBA career, Dischinger graduated from the University of Tennessee College of Dentistry with his Doctor of Dental Surgery degree. He received his orthodontic training at Oregon Health and Science University's School of Dentistry.
Dischinger practiced orthodontics for more than 30 years in Lake Oswego, a Portland suburb. He was influential to the field, holding numerous U.S. patents and traveling the world to teach the next generation of orthodontists.
Outside of work, golf, traveling, and his family were his true passions. He is survived by Mary, his wife of 61 years, his children, and grandchildren. He was preceded in death by his son Terry, according to the release.